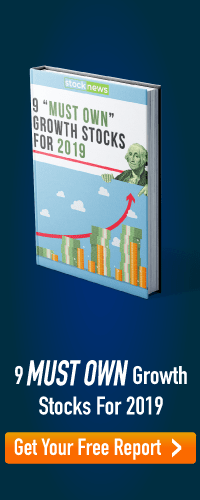 For months now the market has been wracked with worries over America's escalating trade war with China. 12.5% tariffs are already in place on half of Chinese imports into the US and are set to double to 25% on January 1st. And with the Trump administration threatening to impose up to 25% tariffs on another $267 billion in Chinese imports (effectively all of them), the threat to global growth, as well as corporate profits, is severe.
But such periods of elevated risks are always opportunities in disguise. That's because the market is always climbing a wall of worry over something, and today the trade war is just one brick (though the biggest one) in what stands between stocks and new record highs. And the good news is that we're getting reports that a breakthrough that ends the trade war might be just days away. That means that today is potentially a great time to buy two especially trade sensitive dividend growth blue-chips, Apple (AAPL) and A.O Smith (AOS). These undervalued stocks are potentially coiled springs poised to rocket higher as soon as even a handshake deal is announced. And from today's prices, that means market-beating total returns of 15% to 17% over the coming years.
Why The Trade War May Be Ending Relatively Soon
Friday and Saturday (November 30th and December 1st) is the G20 meeting in Buenos Aires, Argentina. The most important meeting between world leaders will be between President Trump and Chinese President Xi Jinping. That will be over a working dinner where both men will discuss the escalating trade war. Ahead of the meeting US and Chinese trade negotiators have been hammering out an outline for a working agreement to end the trade war once and for all. President Trump has indicated he's looking to cut a deal and even ordered administration officials to draw up official paperwork that could allow him to end the tariffs in short order.
Now it's important to note that analysts and trade experts are NOT expecting an official end to the entire trade conflict at this meeting. Rather we're looking for a handshake deal like what Trump stuck with the EU that prevented over tariffs on over $300 billion in European imports (mostly to the US auto sector). The idea is that the two men can announce a "deal to make a future deal" that prevents 25% tariffs being imposed on all Chinese imports into the US.
Here, let me elaborate further…
Click on the Next Page to Continue Reading
---
About the Author:

This is a sample bio paragraph. More...
9 "Must Own" Growth Stocks For 2019
Get Free Updates
Join thousands of investors who get the latest news, insights and top rated picks from StockNews.com!
Top Stories on StockNews.com
---