It's been an up-and-down week for gold bulls.  Gold started the week below 1300, then popped it's head above 1300 Wednesday, only to drop back down around 1295 yesterday. Cross-referencing charts it looks like GLD, our unleveraged gold trading proxy, is equivalent to 1300 right around 123.40.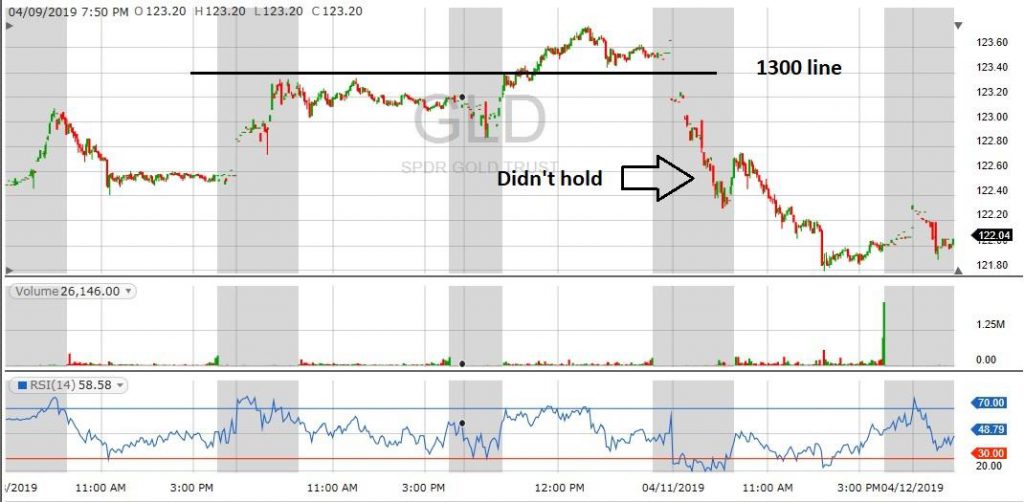 As you can see, gold didn't hold 1300 through the end of the week, meaning we need to keep waiting for the pop.  It's not too surprising given the continuing bullish sentiment in the equities markets.
Earnings season begins in earnest on Monday, and as gold companies tend to report later in the season, we can expect investors to be looking elsewhere for trades.  So barring black swan sightings your Gold Enthusiast isn't expecting any pops in the gold market for the next 2-3 weeks.
For your Friday and weekend reading we have two pieces to recommend.  First is a light-reading piece about Deutsche Bank's 
latest bullish call
 on the gold market. Second is 
DeGussa's latest write-up 
about their gold sector observations, which we have to admit has pretty charts.  And it even gives some hints about 
Bitcoin
, though right now we're not sure that's a great place to be putting money.  As always it's your choice.
No matter what – have a great weekend!
Signed,
The Gold Enthusiast
DISCLAIMER: The author has no positions in any mentioned securities.  The author has small long-gold holdings in NUGT, JNUG and a few junior miners.  He is not expecting to trade any of these in the next 48 hours.
9 "Must Own" Growth Stocks For 2019
Top Stories on StockNews.com
---