While the S&P-500 (SPY) has seen an incredible run off of its December lows, the real star in the market has been tech juggernaut, Apple (AAPL). The stock's move towards services has allowed it to move back to positive sales growth year-over-year, and funds have been eating up the stock in praise of the company's direction. The stock is up 65% for the year, and 17% so far as we near the half-way point of Q4. There is no disputing that the company's improving sales growth and record-high annual earnings per share for FY-2021 justify this move, but I believe Apple is getting ahead of itself short-term. For this reason, I see this as an opportune time for traders to book profits in the stock.
 Apple has undoubtedly been the best place to be among the mega-caps this year, with the company dwarfing the performance of its FAANG peers, as well as the titan in the technology space, Microsoft (MSFT). Apple's 65% return year-to-date is better than that of Netflix (NFLX), Google (GOOG), and Amazon (AMZN) combined and has left the stock quite expensive short-term. As we can see from the chart below, this is the highest P/E ratio that Apple has traded at in the past seven years, and its previous trip up to these altitudes was met with intense selling pressure. The 18 P/E level has been a ceiling for Apple over the medium-term, as the red line below displays.
As we can see from the above chart, Apple's P/E ratio is currently sitting over 22, nearly 20% higher than the readings in 2015, and 10% higher than the readings in late 2017 and late 2018. These three trips up to these levels led to average corrections of 33%, and a median correction of 35%. While it could be different this time, I would not be surprised at all by at least a 15-20% correction in the stock This would see the stock head back below the $230.00 level at some point in the next six months.
 Moving to the technical picture, things are also getting quite frothy. The weekly chart has been a straight surge higher the past six months and a 55% rally off the June lows. This has left the stock the most overbought it has been since Q3 2018. The Q3 2018 correction saw Apple plunge 40% in less than four months, a massive wipe-out of anyone that chased the stock above the $220.00 level.
(Source: TC2000.com)
Finally, looking at the daily chart, the run is even more parabolic. Apple is currently nearly 30% above its 200-day moving average (red line) and is now quite extended from its $230.00 level breakout. This looks like chasing at this point by those that are frustrated to have missed the trade, and crowded trades rarely ever work out short-term.
 While Apple is only trading at a 2-year forward P/E ratio of 18.6x based on FY-2021 estimates of $14.00 in EPS, that is forward earnings of 2 years ahead. It is certainly possible that the stock can head to $300 or even $350 if it can hit these estimates for FY-2021, but the fact is that we are two years ahead of these earnings, and the stock is already pricing a good chunk of this future growth in at these prices. Based on this, I would not be surprised to see the stock sell-off on its next earnings report, or before it, no matter how good the news is.
(Source: TC2000.com)
Apple has become an extremely crowded trade and is more expensive than it's been at any point in the past seven years. Based on this, I believe the wise move is selling into strength here for traders. For investors that hold the stock long-term, trimming a little off the top at parabolic levels like we have currently probably isn't a terrible idea.
---
AAPL shares rose $0.15 (+0.06%) in after-hours trading Wednesday. Year-to-date, AAPL has gained 70.18%, versus a 25.41% rise in the benchmark S&P 500 index during the same period.
About the Author: Taylor Dart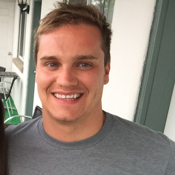 Taylor has over a decade of investing experience, with a special focus on the precious metals sector. In addition to working with ETFDailyNews, he is a prominent writer on Seeking Alpha. Learn more about Taylor's background, along with links to his most recent articles. More...
More Resources for the Stocks in this Article