Amazon may suffer due to the economic contraction occurring, but its expansion into the pharmaceutical market may help offset some of these losses. That is thinking behind RxPass, Amazon's latest offering that allows its Prime members to order generic medications for a $5 USD per month subscription fee. Below, we take a look at some of Amazon's recent financials and price momentum.
Tracking AMZN's Performance from 2020 to 2022: Net Income, Price/Sales Ratio, and Revenue
AMZN's net income has been volatile over the past few years. Trailing twelve month net income has more than tripled from March 2020 to December of 2021, but then sharply declined to 11.61B in June 2022. Overall, AMZN's net income has been trending upward, with the latest value of 11.32B being 19% higher than the starting value in March 2020. Here is a chart of AMZN's Net Income over time.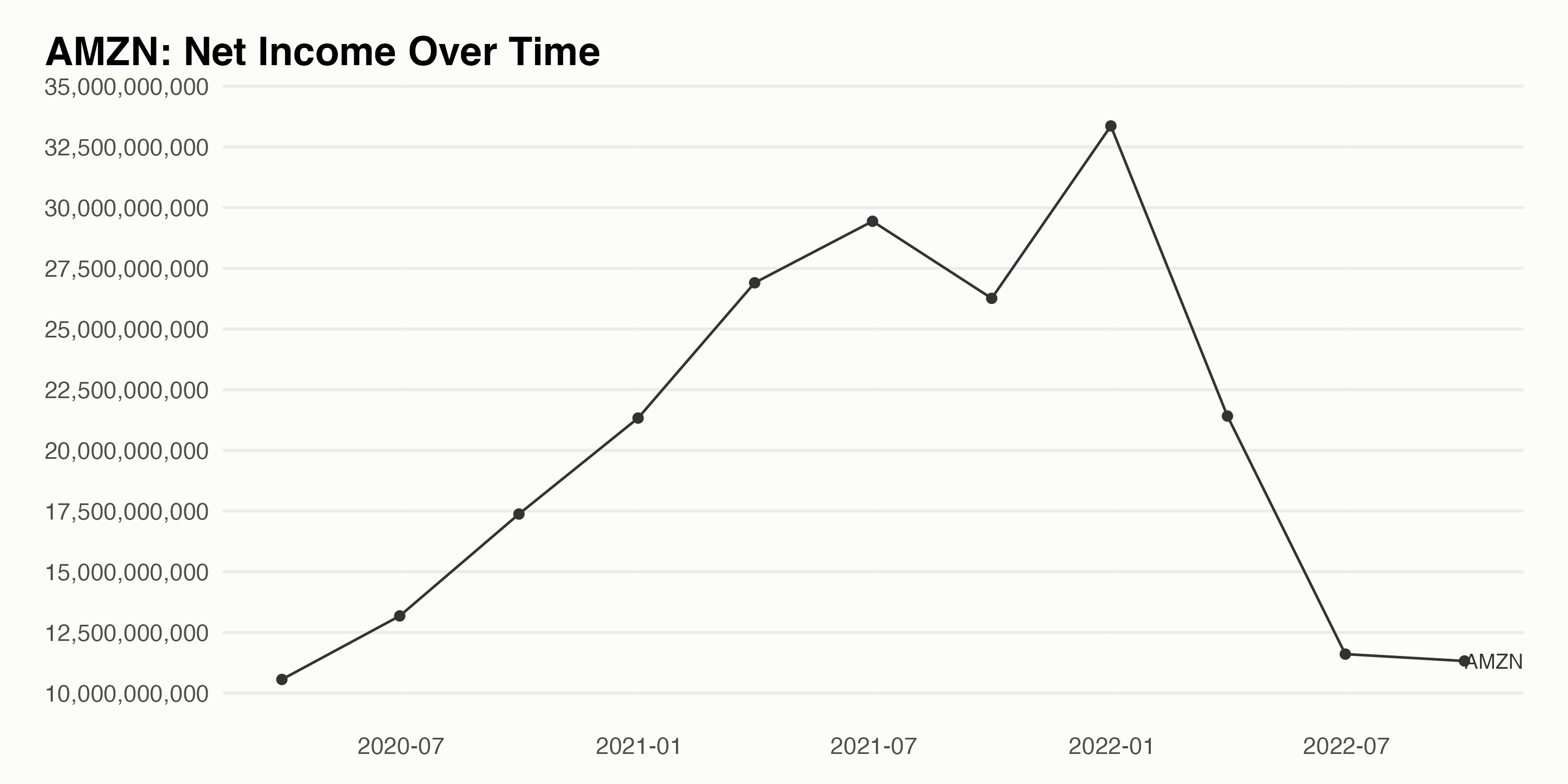 The Price/Sales Ratio of AMZN fluctuated throughout the recorded period of 2020 to 2022. Starting at 3.85 in March 2020, it peaked at 4.93 in June 2020, before dropping to a low of 2.10 in September 2022. The overall trend shows a decrease in the Price/Sales Ratio of AMZN, with a 21.2% decrease from the initial value. This is likely a reflection of the bear market and the decline in multiples that virtually all equities have seen.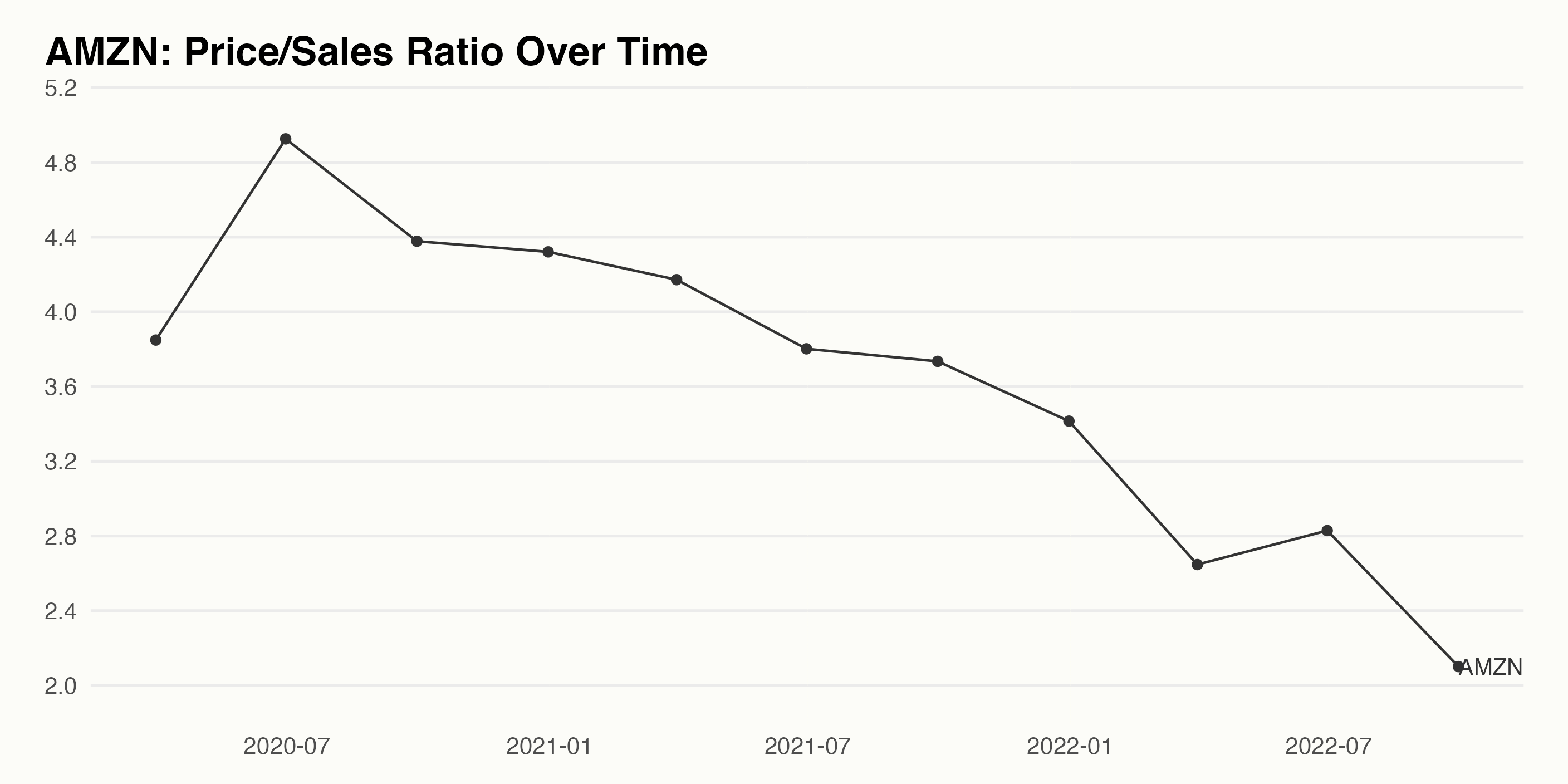 AMZN's revenue has generally been increasing over a two year period from March 2020-September 2022, with the most significant growth occurring between December 2020 and September 2021, when revenue grew by around 24%. The last value of this data in September 2022 marks a time when Amazon crossed the $500 billion in trailing twelve month revenue mark. Amazon's revenue growth rate was declining in 2022, but remains positive and thus overall revenue is still trending upwards.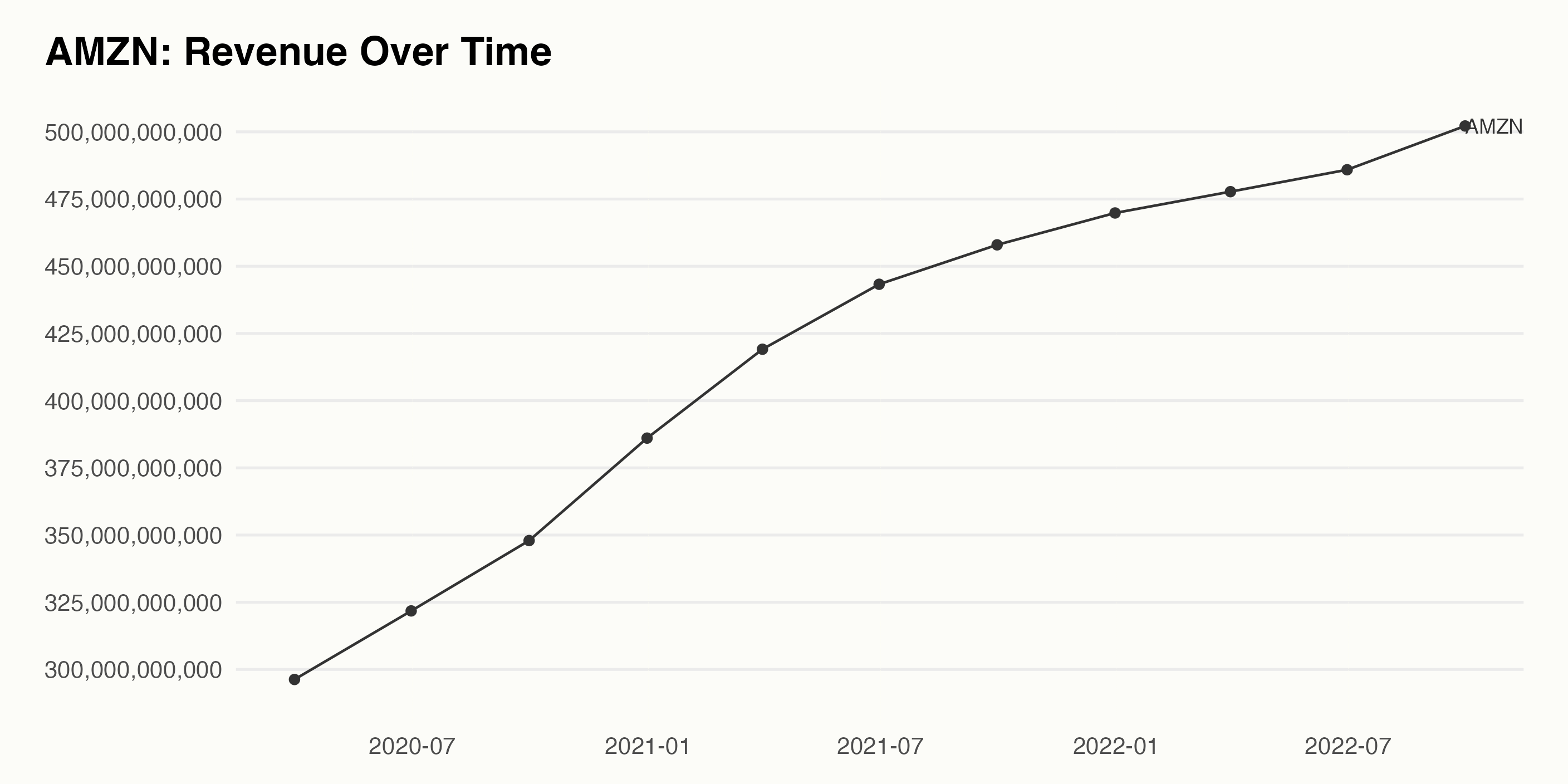 AMZN Stock Price Increases Rapidly over 6-Month Period
The stock price of AMZN has seen its price steadily decline from July 29th, 2022 ($130.50) to January 20th, 2023 ($95.84). These declines did come with some small rallies along the way — specifically, from August 12th to August 26th, the share price increased from $140.94 to $141.97 ($+1.03), from September 2nd to September 9th, the share price increased from $128.25 to $128.94 ($+0.79), and from October 14th to October 21st, the share price increased from $111.78 to $115.55 ($+3.77) — but the overall downwards trend is quite clear. January of 2023 has seen its price rally, as has been the case for the broader US equities market. Here is a chart of AMZN's price over the past 180 days.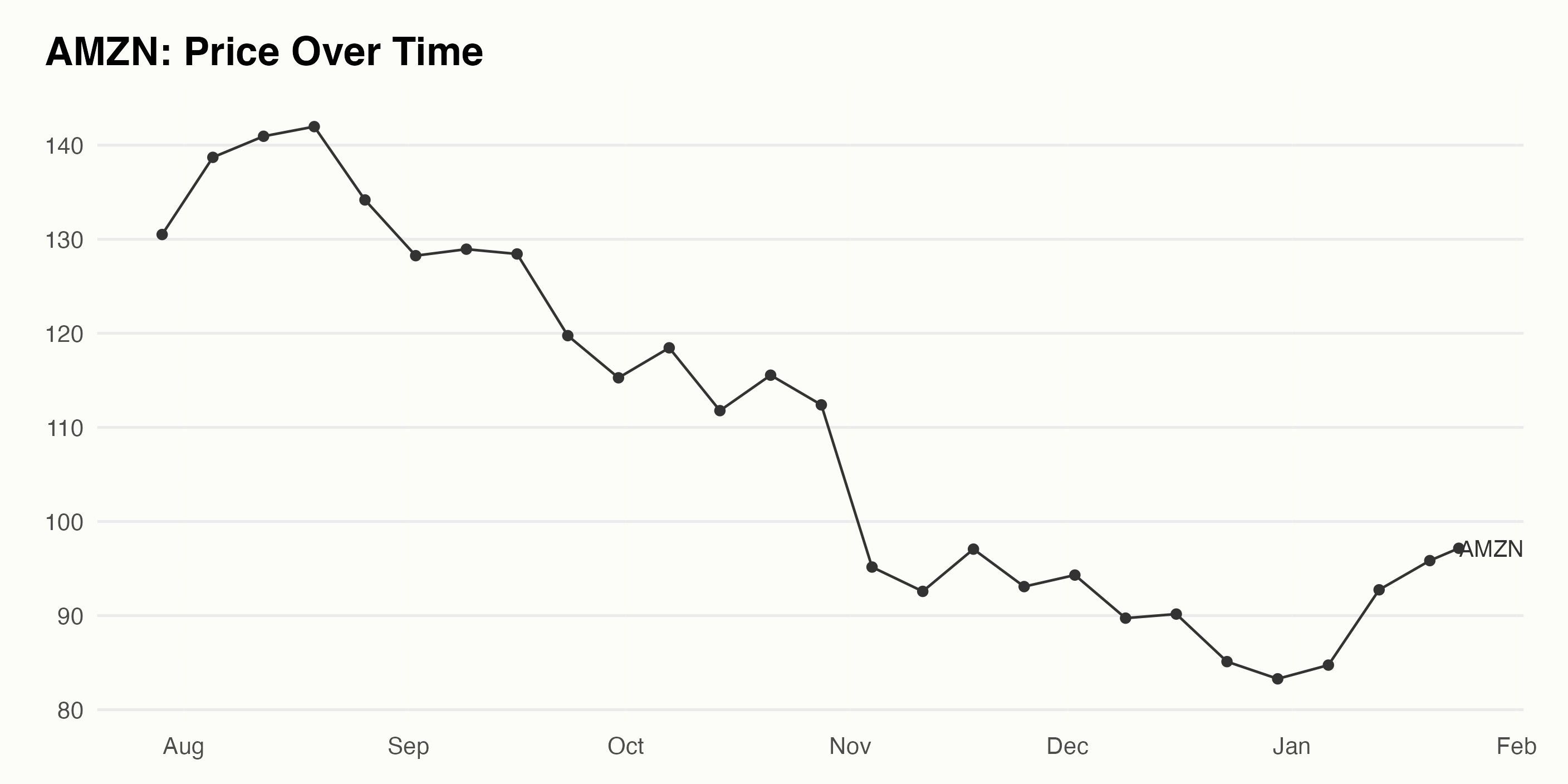 Want More Great Investing Ideas?
---
shares were trading at $400.27 per share on Tuesday afternoon, down $0.36 (-0.09%). Year-to-date, has gained 4.66%, versus a % rise in the benchmark S&P 500 index during the same period.
About the Author: Simit Patel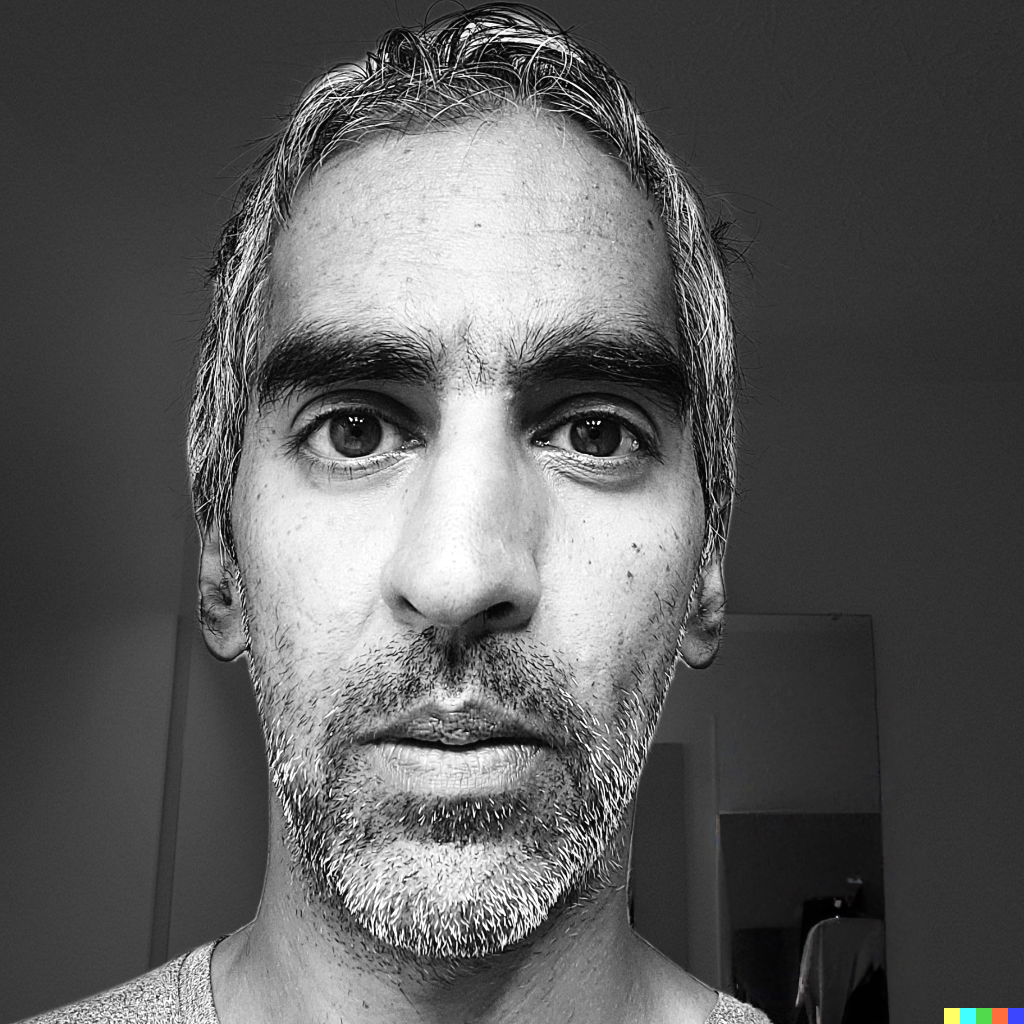 Simit Patel has 2 decades of investing experience applying a top-down approach starting with macroeconomics followed by price action technical analysis to find more winning trades. More...