It's been a wild year for the stock market, with the
S&P 500
 swinging violently up and down as investors fret over the escalating trade war and rising recession risk.
(Source: Ycharts)
The past year has seen both the worst correction in a decade and the best Q1 rally since 1987. Throw in two trade war-related pullbacks and the market has basically gone nowhere in a hurry.
With 15% tariffs now going up on $110 billion in new Chinese imports, and more tariffs coming on October 1st and December 15th, investors are naturally worried what the worsening trade war might mean for corporate earnings, and the risk of the next correction turning into a painful bear market.
So let's look at the latest facts, as best as we can determine them, to see what the Wall Street consensus now expects from 2019 and 2020 EPS growth. This is after the street has had a month to digest the latest trade news.
The Bad News Is the Trade War Is Going to Make for a Weak 2019
The trade war is hurting some sectors more than others. For example, while the S&P 500 gets 38% of sales from overseas as a whole, tech companies derive 57% of revenue from outside the US.
(Source: FactSet Research)
Tariffs can thus hurt earnings in two ways. Directly, via higher costs that squeeze margins, but also due to the stronger US dollar. The US economy has remained very resilient and is still growing about 2% in Q3 (after growing 2% in Q2), while most of Europe and Japan is flirting with or in outright recession.
Crashing foreign interest rates, courtesy of central bank monetary easing has caused the dollar to remain near multi-year highs, resulting in foreign sales converting into smaller US dollar earnings. A strong dollar also makes US goods and services more expensive overseas, hurting US competitiveness and is a key reason Trump has been so critical of the Fed for not slashing rates aggressively to help him fight his trade war.
What about 2019 earnings overall? After a full month in which Wall Street analysts have factored in the latest tariffs (plus the upcoming ones) into their models here is how things look now.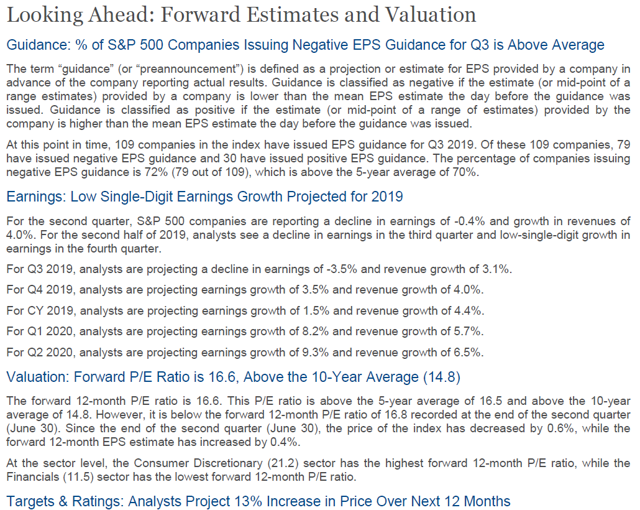 (Source: Factset Research)
It appears we're set for three consecutive quarters of negative earnings growth. But a strong Q4 (factoring in US/China tariffs that are now 21% vs 3% before the trade war began) is likely to result in weak positive growth of 1.5% in 2019.
(Source: FactSet Research)
This terrible growth year is expected to see energy, basic materials, and tech earnings shrink, while utilities, financials, and healthcare lead the way in terms of sector-wide EPS growth.
At the start of the year, expectations of a trade deal in early 2019 saw 10% EPS growth expectations that have been steadily falling all year. The good news is that analysts tend to slash expectations ahead of that quarter's results, which is why 72% of companies have beaten expectations over the last five years.
Could EPS growth forecasts keep falling? You bet. But let's not forget that in Q2 75% of companies beat expectations, reporting on average 5.6% higher EPS growth relative to final estimates.
This means that even should 2019 expectations keep trending downwards (at the recent rate of 1% per month), we're likely to see 1% to 3% EPS growth in 2019. Compared to 2018's 20% tax fueled boom, that sucks. But between 2014 and 2016 S&P 500 EPS basically was flat, courtesy of various challenges such as oil crashing 77% and devastating the oil & gas and related industrial industries/sectors.
Which brings us to the good news.
The Good News Is That, Overall, Corporate Earnings Will Likely Grow This Year And In 2020 Preventing A Bear Market
The same sectors that are being hurt most in 2019 from the trade war are expected to see the strongest rebound in EPS growth next year.
(Source: Factset Research)
Energy, industrials, basic materials and communications (which used to be telecom but now includes Facebook and Alphabet) are expected to post double-digit EPS growth. The S&P 500 is overall expected to see double-digit growth as well.
Now it's important to know that over the past 15 years analyst growth estimates 12-months out have fallen by 3.1% before that quarter's actual results started to drop. In other words, expect that 10.7% EPS growth forecast to come down to about 7.6% over time.
And it's possible that with a trade deal now a sub 20% probability event next year (per Moody's) that growth expectations could fall even further. But I consider 6% to 8% a realistic growth estimate for next year when balancing the fact that expectations fall over time but 72% of companies beat expectations, usually by 3% to 4%.
What does that mean for the stock market in terms of forward returns? Today analysts expect 13% returns from the S&P 500, which I consider potentially over-optimistic.
The current 12 month forward EPS on the S&P 500 is $174, meaning 16.8 times forward earnings. The 25-year average forward PE, which I consider a good proxy for fair market value incorporating a range of interest rates and growth outlooks, is 16.2.
So applying $174 forward EPS to that historical fair value multiple brings us a 12-month S&P 500 estimate of 2,818, which is about 3% below the 2,908 the S&P 500 is at now, as I write this.
But the ultimate good news is that you don't have to necessarily settle for -3% returns over the next year.
Bottom Line: It's a Market Of Stocks, Not a Stock Market
My fellow Dividend King and F.A.S.T Graphs founder Chuck Carnevale likes to say "it's a market of stocks, not a stock market."
This means that no matter what the overall market is doing, something good is always on sale. For example, today the same industries that are growing EPS the fastest today (banks) are trading at their lowest industry average PE in 10 years.
Similarly, trade-sensitive industrials and energy stocks, including many that pay generous and steadily growing dividends even during recessions, are trading at their most attractive valuations in years (up to 15 years for energy).
Those are the same industries and sectors that are expected to see the strongest EPS growth next year, courtesy of very weak comps in 2019.
I myself am buying quality dividend stocks every week split evenly between cyclical, economically sensitive ones (like energy) and defensive consumer staples blue chips (tobacco is dirt cheap right now).
If the market really does trade flat over the next year, then it won't be hard to beat that, especially when you can buy quality names like Altria at safe 7.7% yield, growing 7% to 9% annually over time, per management guidance, and is 31% historically undervalued right now.
In a year when the market will be lucky to post any positive returns, Altria should significantly outperform on safe dividends alone. Factor in reversion to its historical valuation multiples and Altria's 5-year CAGR total return potential is 15% to 23%. That's compared to JPMorgan's 10 to 15-year expectation for the S&P 500 of about 5.25% annually.
---
SPY shares were trading at $290.30 per share on Tuesday morning, down $2.15 (-0.74%). Year-to-date, SPY has gained 17.24%, versus a % rise in the benchmark S&P 500 index during the same period.
About the Author: Adam Galas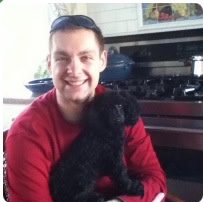 Adam has spent years as a writer for The Motley Fool, Simply Safe Dividends, Seeking Alpha, and Dividend Sensei. His goal is to help people learn how to harness the power of dividend growth investing. Learn more about Adam's background, along with links to his most recent articles. More...
More Resources for the Stocks in this Article