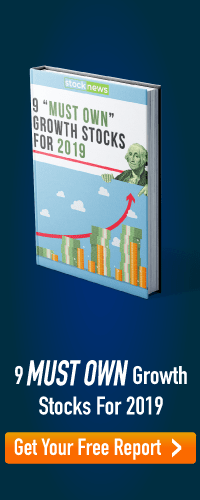 Fed Chair Jerome Powell spoke yesterday, and to be frank what he said was a bit of a surprise.  Not so much in what he said – which was reasonably middle-of-the-road – but in how much reaction there was to it.  The important part of what he said was that interest rates were "just below … neutral" which this Gold Enthusiast translates to, "I'm justifying the next planned rate hike in December now, and leaving my options open for next year."
You have to remember that all year the Fed has been saying "4 rate increases in 2018, maybe just 3" and they're delivering on that.  And, that just a few months ago in October he said rates were a "long way from neutral" – but the Fed hasn't changed rates since then…  Is anybody else noticing this?  Definitely sounds like Mr. Powell is talking his own book.
Anyway, here's the 5-day chart of GLD and UUP so you can see how the market was going, and what the reaction was. GLD is the candles, UUP is the blue line.
Yep, no need to even point it out.  Before the speech, the Dollar was slowly rising and gold slowly falling.  Then sudden convergence of GLD and UUP shows when the speech came out. This is exactly as fundamentals would indicate; Dollar goes down, gold goes up.
That's not all…
We can also note that over the previous 4 days, the Dollar had risen 0.8% while gold dropped 1.0%, implying some leverage going against gold. This Gold Enthusiast interprets that as a simply negative sentiment; as most investors are currently avoiding gold, the market is left in the hands of short-term and day traders, who will (relatively) thrash the market around chasing dimes and quarters.  Remember the basic truth that a market doesn't level out until it gets to a certain level of volume, and any low-volume market is likely to be much more volatile than a high-volume one. Not rocket science, just good old market realities.
In any case, your Gold Enthusiast is not expecting any breakout of the current 1200-1240 range unless we see a major geopolitical news item or a dreaded black swan.  So no need to worry now, although at the same time no real hopes for getting rich off gold in the near future.  And, do expect a rate hike in December.
Signed, The Gold Enthusiast
DISCLAIMER: The author holds no position in any mentioned security.  The author is long small positions in NUGT, JNUG, and a small basket of junior gold miners, nothing large enough to even budge the market, and no plans to trade these in the next 48 hours.
---
About the Author: Mike Hammer
For 30-plus years, Mike Hammer has been an ardent follower, and often-times trader, of gold and silver. With his own money, he began trading in '86 and has seen the market at its highest highs and lowest lows, which includes the Black Monday Crash in '87, the Crash of '08, and the Flash Crash of 2010. Throughout all of this, he's been on the great side of winning, and sometimes, the hard side of losing. For the past eight years, he's mentored others about the fine art of trading stocks and ETFs at the Adam Mesh Trading Group More...
9 "Must Own" Growth Stocks For 2019
Get Free Updates
Join thousands of investors who get the latest news, insights and top rated picks from StockNews.com!
Top Stories on StockNews.com
---