Fret not dear investor. The recent rally for the S&P 500 (SPY) was overextended with this sell off being the natural consequence.
Let's spend our time wisely discussing why stocks are down…how much lower they will go…why they will bounce…and when to buy back in for the next leg higher.
All that and more awaits you in today's commentary.
Market Commentary
Good news is that the yield curve is getting less steep which decreases odds of a recession.
Bad news is that it is happening as long term rates are going up which is bad news for all forms of borrowing including cars, housing and long term investment in a business (which is the main fuel for economic growth).
Why is this happening?
It all started after the Fitch ratings downgrade for the US when the 10 year was closer to 3.8%…yet now is a good spot higher at 4.3%. Which is the highest level for these rates since the Fed embarked on their hawkish regime.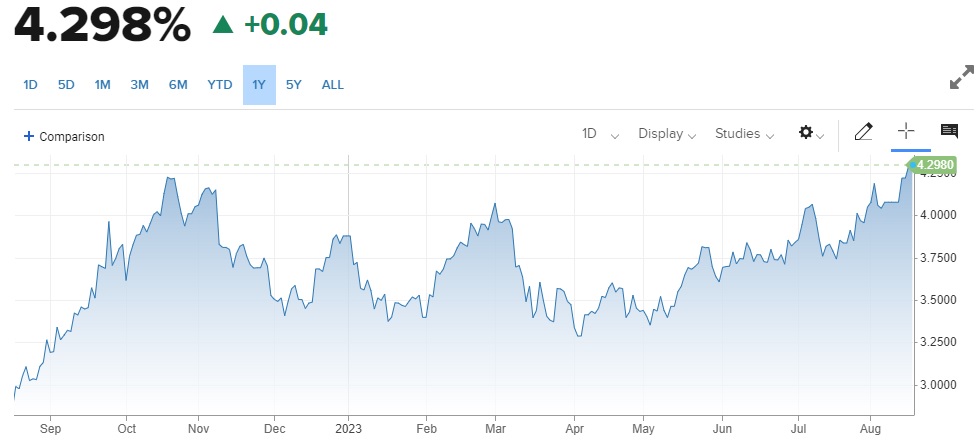 However, I suspect very little of it really has to do with the Fitch downgrade. The more I read on this topic…the more people are discussing the Fed minutes from Wednesday. That being where there is still solid concern on the part of committee members that inflation is well above target…not coming down fast enough…and that more rate hikes could be needed.
Even if they don't raise rates again, which is my prediction, they could simply leave the current high rates in place longer than previous anticipated. This too would push up the longer end of the yield curve.
Why is this bad news for the stock market?
When you consider the importance of asset allocation between stocks and bonds…then the higher the bond rates, the more attractive bonds become…and the less attractive it is for stocks. So more investment dollars flow out of stocks towards bonds as rates escalate.
No doubt some of the recent sell off was simply investors finally taking some profits off the table. Unfortunately, there is more to the story given this investment trade off issue noted above as bond rates rise.
How much higher will Treasury rates go from here? I suspect not much higher UNLESS upcoming inflation readings are hotter than expected pushing the Fed to act more vigorously with additional rate hikes.
And yes, the more hawkish the Fed becomes…the greater the risk of recession…which clearly is a negative for stocks.
All in all, this sell off was long overdue. Yet, given the facts in hand it is hard to be bearish. In particular, how much inflation has come down without a recession forming, thus making soft landing the most likely possibility.
Further, beyond the soft landing the Fed will be lowering rates…meaning more accommodative. That has always been a good tasting tonic for stock gains.
Rather right now all we are determining the bottom of this move for which stocks bounce…and then play in a trading range for a while awaiting the next catalyst to bolt higher.
Thursday marked the 3rd straight close under the 50 day moving average (4,450). And the first close below 4,400 which was an area of psychological support. In fact, it spent most of the Thursday teetering at 4,400 before breaking lower in earnest.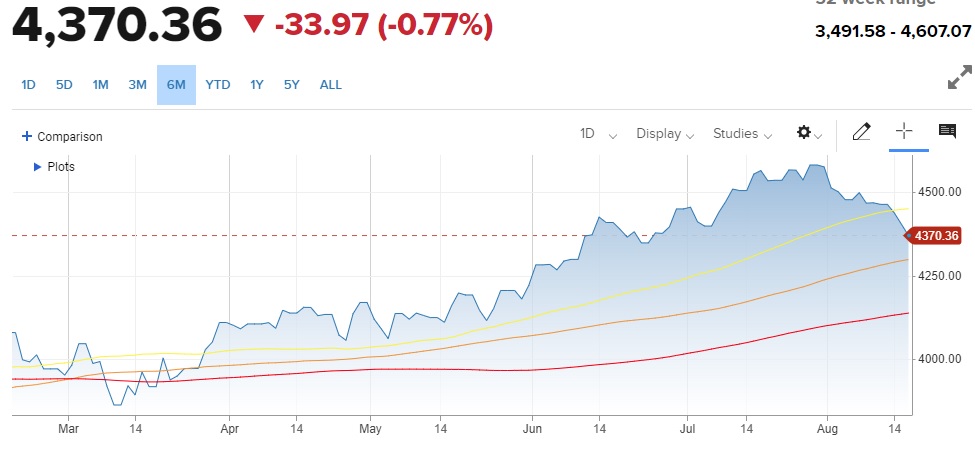 As stated in my last commentary, I think there are solid odds that investors may push down to the 100 day moving average (4,292) before calling it quits on this overdue pullback. That is about 2% below Thursday's close. Not too scary in the grand scheme of things given that we started the year around 3,800.
Trading Plan
This is still a bull market til proven otherwise. But yes, investors are FINALLY reappreciating that the bearish argument was never gone. That the Fed could go to far creating recession.
So this pullback from 4,600 is creating a better resting place for stocks. As in a price that better balances the future bullish vs. bearish possibilities.
I continue to see this as a "buy the dip" especially for those who have been under allocated to the stock market this year. No doubt you have been waiting for an opportunity to get back in as you didn't like chasing it when reaching 4,600. So now under 4,400 and likely finding bottom here soon…NOW IS YOUR TIME TO BUY IN.
I am practicing what I preach on this front as I put more money to work in my Reitmesiter Total Return portfolio. As well as putting 7 figures worth of cash back to work in my personal accounts this week.
If you are looking for the exact perfect moment…you will never catch it in real time. That fantasy of perfect timing leads to indecision…and then missing the train altogether.
Looking out to the end of 2024, when the market will be making new all time highs well above 5,000 (maybe even hit 6,000)…then it is crazy at this point to quibble over 1% here or there. Just jump in and act now!
What should you buy?
More on that below…
What To Do Next?
Discover my current portfolio of 6 stocks packed to the brim with the outperforming benefits found in our POWR Ratings model.
Plus I have added 5 ETFs that are all in sectors well positioned to outpace the market in the weeks and months ahead.
This is all based on my 43 years of investing experience seeing bull markets…bear markets…and everything between.
If you are curious to learn more, and want to see these 11 hand selected trades, then please click the link below to get started now.
Steve Reitmeister's Trading Plan & Top Picks >
Wishing you a world of investment success!


Steve Reitmeister…but everyone calls me Reity (pronounced "Righty")
CEO, StockNews.com and Editor, Reitmeister Total Return
Want More Great Investing Ideas?
---
SPY shares were trading at $435.87 per share on Friday afternoon, down $0.42 (-0.10%). Year-to-date, SPY has gained 14.83%, versus a % rise in the benchmark S&P 500 index during the same period.
About the Author: Steve Reitmeister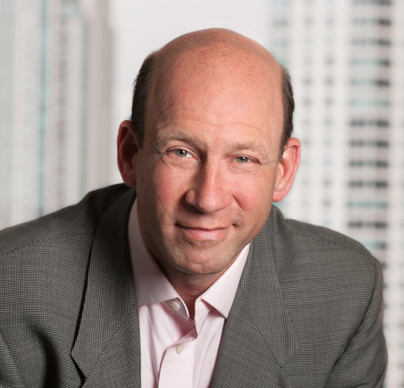 Steve is better known to the StockNews audience as "Reity". Not only is he the CEO of the firm, but he also shares his 40 years of investment experience in the Reitmeister Total Return portfolio. Learn more about Reity's background, along with links to his most recent articles and stock picks. More...
More Resources for the Stocks in this Article