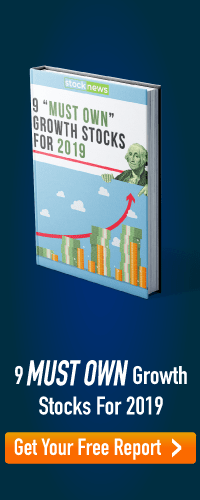 A year ago, several VIX or volatility related products imploded, and were forced to shut down.  It now appears the popular Barclay's iPath S&P 500 VIX Short-Term (VXX) exchange-traded note will cease to trade at the end of the month.
But unlike the VIX, ETN's, mostly inverse and leveraged — which went poof last February as a spike in volatility created a forced liquidation —  the ending of the VXX is purely voluntary and pre-planned.
Indeed, in the initial prospectus from 2009 stated, "due to the construction for this product one needs to be aware that its value will approach zero over time."  The prospectus also called to retire the fund after 10 years which will be at the end of this month on January 30.
One of the reasons for the nature of the product itself, a sort of ticking time bomb of obsolescence,  as discussed here, is that the very construction of the product was  created over time, and sends its price down towards zero.
This headwind is a function of the normal term structure of the VIX futures, one of contango, which has the longer-dated contracts trade at premium to near term. What this means is that as the VXX gets rebalanced each day to maintain a 30-day snapshot of the VIX, it's selling a lower priced near-term future and buying a higher priced longer dated contract.
This 'sell low/buy high' sends the share price down over time.  You can clearly see the impact in this three-year chart.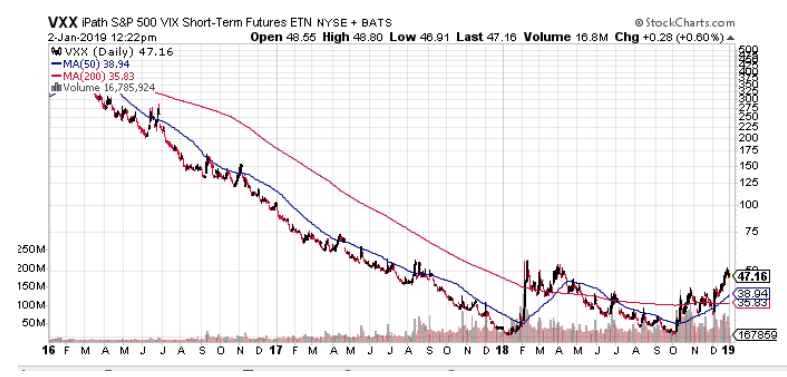 And while Barclay's was obviously aware of this "doomsday clock' it seemingly happened at a more rapid rate than expected — some of which was due it launched when the VIX was at the all-time high during the financial crisis, as the VXX was forced to undergo no less than five 4-for-1 reverse stock splits to keep it out of the single digits.
All told since its inception 10 years ago, on a split-adjusted basis, the VXX has declined from $120,700 to the current $47 level.  
But even as the VXX is destined to lose value, it has proved to be a cash cow for Barclay's.  The VXX trades an average of over 50 million shares a day which places it in the 20 most active issues in terms of  volume and notional value.
And then there are all the options.  The Chicago Board of Options Exchange (CBOE), which can exclusively trade VIX options, was engaged in wishful thinking when it initially listed 2020 LEAP options on the VXX.
When it became clear that the VXX was going to stick with its final expiration on January 30, 2019, it removed the listing. There are no longer options on VXX for January 2020.
But hope is not lost. At least not while there's a profit to be had. Barclay's will be expected to launch a pair of "Series B" ETNs to keep on the VIX exposure.
iPath Series B S&P 500 VIX Short-Term Futures ETNs (VXXB) and the iPath Series B S&P 500 VIX Mid-Term Futures ETNs (VXZB).
Expect these to come online by mid-January, and be gone in 2029.
The Greatest Trading Book
Ever Written
I have been working very hard to introduce you to the greatest trading book ever written. At my trading firm, the very first thing that any new trader had to do was read this book. They wouldn't be allowed in my office if this book was not read. Now, I've taken this book and built an entire trading system around it. For anyone that has any interest in trading, this is a must-read. It's about success, failure and then success again. This book is being offered today, Get Your Copy Now
---
About the Author: Steve Smith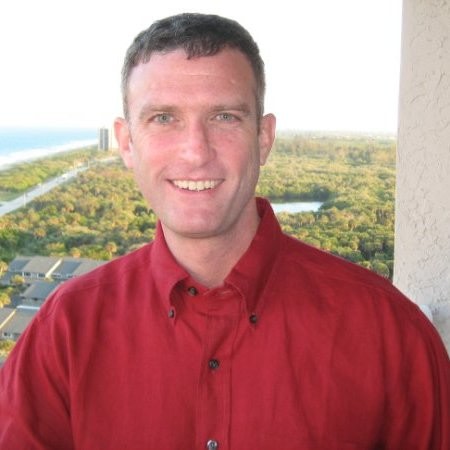 Steve has more than 30 years of investment experience with an expertise in options trading. He's written for TheStreet.com, Minyanville and currently for Option Sensei. Learn more about Steve's background, along with links to his most recent articles. More...
More Resources for the Stocks in this Article
9 "Must Own" Growth Stocks For 2019
Get Free Updates
Join thousands of investors who get the latest news, insights and top rated picks from StockNews.com!
Top Stories on StockNews.com
---