Gold demand
slumped 20% in India over 2018 
according to a report
 in India's Economic Times news outlet.  This isn't too surprising in light of the decline – 
some would say collapse
 – of the rupee last Spring. Any time a currency drops 8% in less than 6 months you can be sure prices for imported products will rise.
Add to that the increases in gold taxes in 2017, and 2018 was set up to be a low-demand year in India.  What may be surprising is that demand only dropped 20% compared to 2017.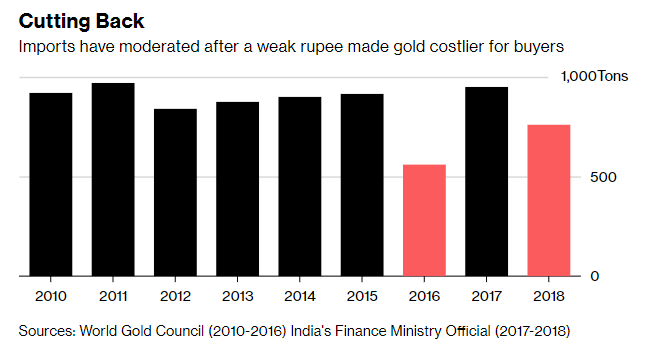 Indian market watchers are 
calling for a recovery
 in the rupee during 2019.  If the rupee does recover then gold demand will likely firm up, as Indians are still terribly fond of their gold.  And if the gov't backs down the gold taxes even halfway we can expect a full recovery in demand.  Whether that will happen remains to be seen.
Signed,
The Gold Enthusiast
DISCLAIMER: No specific securities were mentioned in this article. The author is long the gold sector through small positions in ETFs and a few junior mining stocks.