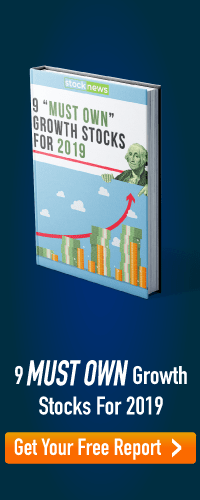 Earlier this week I looked at how The Dow Theory was indicating the stock market was heading into a broad bear market.  Today, I want to take a deeper dive into one sector of the Transportation Index (DJT), the trucking industry, to see what ails it. Or if it's presenting a buying opportunity.
Trucks account for over 82% of most goods, from groceries to clothes to construction material and fuel are moved from businesses to consumers.
Right now, it's sending a very mixed picture.  If one were to assess the situation solely based on the share price of various trucking firms, you'd think we're already deep into a recession.
Trucking stocks have been under pressure in recent months, with most names down by over 20%; many of the larger national firms have fared worse; for example Knight Swift (KNX) is down 27.17%, Old Dominion (OLD) is down 26%, JBHunt (JBHT) is down 28% and Landstar Systems (LSTR) is off by 24% so far this year.
This poor performance comes after a stellar two-year period in which many of these same names gained over 45% from 2016 to 2017, thanks to strong demand and pricing power.
So, what's changed?
Not Enough Drivers
One of the biggest challenges facing the industry is that there are simply not enough qualified drivers, especially for the long haul.
At first, this may seem to have positive indications that it speaks to strong demand. The shortfall of drivers, by some estimates over 40,000, are needed now and another 75,000 by 2020 — is limiting capacity to the point where profitability is being hurt.
This comes from two fronts; operating at below capacity to the point that the number of trips actually declined from a year ago. And increased costs that come in the form and needing recruit, train and offer much larger pay packages to retain drivers.
The driver shortage stems from it simply seen as an attractive job; long periods away from home, physically and mentally stressful and low job satisfaction.
Adding stress to the system is how National retailers in an attempt to compete with Amazon have ramped up their own delivery services; this has increased demand for medium-haul trucks between distribution centers down to the door-door delivery.
So, while this demand does give the trucking demand some pricing power most of the margins are disappearing into the higher wages.  Which in turn forces the retailers to raise prices on consumers.
So even as gas and fuel prices decline the cost to ship by truck has increased.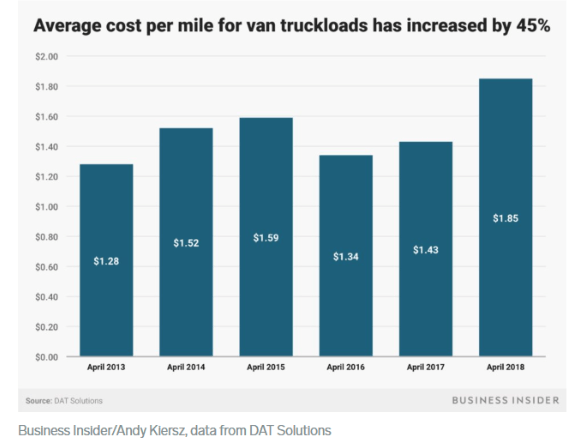 Energy Also Cuts Both Ways
The other largest input cost after labor is fuel. Now, one would think with oil sinking back below $50 a barrel this should be a major positive. But oil and energy products, including equipment, are also one of the largest and most profitable cargo and shipments. With drilling and distribution down, transport of energy-related items has declined by about 10% over the past three months.
John Wilbur, CEO of Roadmaster Group, an Arizona-based specialized transportation company, said, "The oil industry in the US is now a significant portion of our economy and we do have customers that are in the oil-field and oil-service industry and falling oil prices are reducing his company's customer base in the oil-related industry."
Likewise, with housing mired in a slowdown, shipment of construction material and tools has also seen a double-digit decline over the past quarter.   
Trade War
Finally, the tariffs, particularly with China, have slowed imports and exports hurting the trucking industry which is a key part in the supply chain of getting full containers on and off boats and trains.
While the trucking industry faces some rough road ahead, I think a few names offer a compelling opportunity.
My top pick is JBHunt which trades at just 12x forward earnings. But it's expected to grow sales by 15% and bottom line eps by 17% in 2019.  Despite that, the stock was down some 28% from the summer high.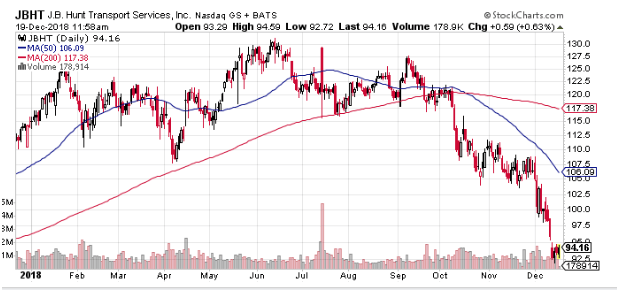 I like that JBHunt is focused on medium to short-haul shipping consumables such as food items, and offers a wide array of intermodal and less-than-truckload services.  Meaning, it can provide flexible solutions for smaller businesses and charge a premium as it upsells to logistic and data services.
I think shares look like a bargain here.
The Greatest Trading Book
Ever Written
I have been working very hard to introduce you to the greatest trading book ever written. At my trading firm, the very first thing that any new trader had to do was read this book. They wouldn't be allowed in my office if this book was not read. Now, I've taken this book and built an entire trading system around it. For anyone that has any interest in trading, this is a must-read. It's about success, failure and then success again. This book is being offered today, Get Your Copy Now
---
About the Author: Steve Smith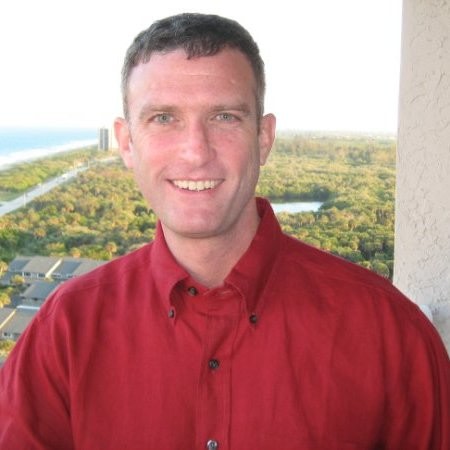 Steve has more than 30 years of investment experience with an expertise in options trading. He's written for TheStreet.com, Minyanville and currently for Option Sensei. Learn more about Steve's background, along with links to his most recent articles. More...
9 "Must Own" Growth Stocks For 2019
Get Free Updates
Join thousands of investors who get the latest news, insights and top rated picks from StockNews.com!
Top Stories on StockNews.com
---