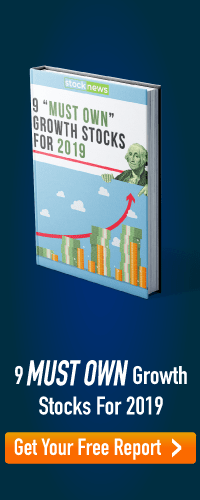 As people increasingly focus on living a healthy lifestyle, this chain of fitness clubs is offering a low-cost membership to gyms to make it easy for everyone to join. This no-frills approach is spurring accelerated growth and incredibly strong stock performance.
Planet Fitness (PLNT), founded some 25 years ago, was a pioneer in low-cost gyms, but didn't go public since is 2015 initial public offering.  It has used the capital raised in the IPO to pump up its expansion and now has over 1,700 locations. It plans to have over 4,000 with the next fives years.
As other gyms targeted high-end market by designing boutique-like spaces and adding accouterments such as juice bars, specialty fitness programs and equipment — such as SoulCycle and Peloton have proliferated, Planet Fitness has stuck with it's lean, no-frills approach of basic equipment, and an easy on the wallet $10 per month membership.     
That approach is working as PLNT is one of the country's fastest-growing chains with revenue increasing by more than 30% over two years to nearly $600 million in 2018.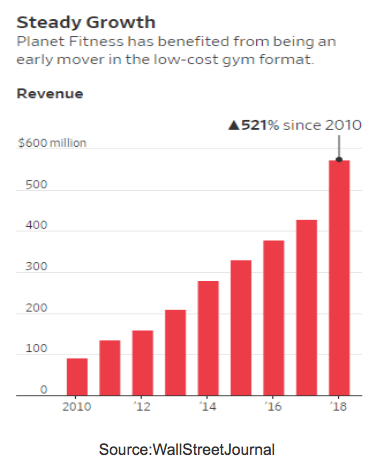 Its stock has enjoyed similar growth with its share price nearly quadrupling since its IPO, and up some 65% in just the past year.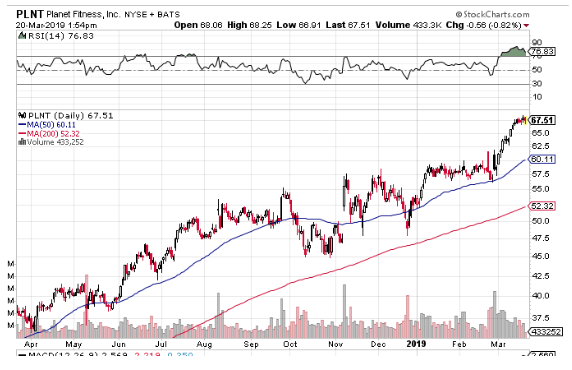 Planet Fitness has benefited from both casual users, many who had never belonged to gym, with a desire to benefit from moderate exercise.  It also fills in workout gaps for fitness connoisseurs who use the gyms as a second location to supplement more intense workouts they do elsewhere.   
It also offers access to any of its nationwide locations, often multiple locations in the larger cities, for a the slightly higher $20 per month Black Card membership. This has appeal to those that travel for work.
The strategy has also resonated particularly well with millennials, which account for roughly 45% of Planet Fitness members who want an alternative to the more structured, or 'judgmental' programs such as spin classes or hardcore weightlifting.
Membership has been growing by double digits annually and recently crossed 12 million.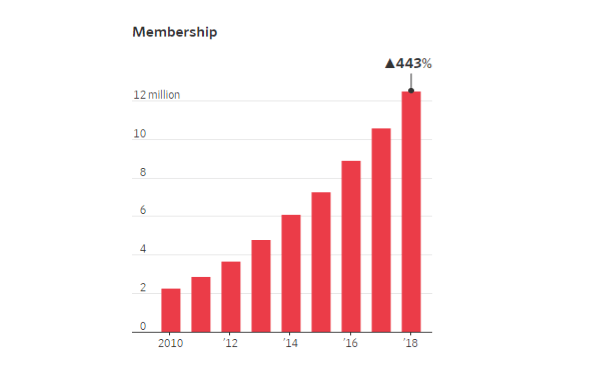 Another aspect of the low-cost approach is that members are less inclined to freeze or cancel a $10 or $20 membership, even if they stop going for long stretches.  The company also makes the cancelation process somewhat cumbersome by requiring a handwritten 30-day notification.
Planet Fitness is seeing some increased competition as health clubs are trying out the low-cost approach. 24 Hour Fitness USA Inc. now offers pricing tiers for their membership. Luxury gym chain Equinox Holdings Inc. rolled out its low-cost Blink Fitness line in 2010, while Retrofitness opened in 2004 with monthly memberships that start at $20.
But, with its first mover advantage, large footprint, and clear and consistent branding, the chain still sees room for growth.  
 Marc Grondahl, one of the company's founders says, "Only 20% of the U.S. population has a gym membership. We  think we offering a compelling case for nearly everyone join."
For my part, I'm both a member and stockholder. I suggest you join on both fronts.
---
About the Author: Steve Smith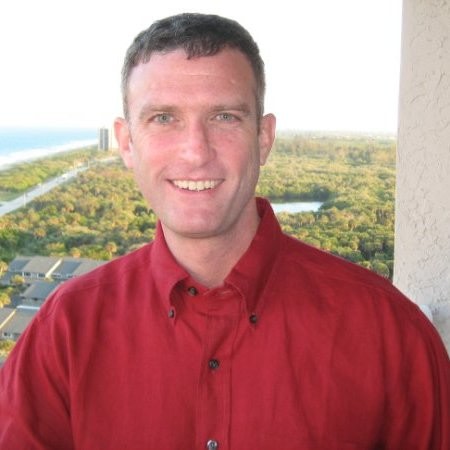 Steve has more than 30 years of investment experience with an expertise in options trading. He's written for TheStreet.com, Minyanville and currently for Option Sensei. Learn more about Steve's background, along with links to his most recent articles. More...
9 "Must Own" Growth Stocks For 2019
Get Free Updates
Join thousands of investors who get the latest news, insights and top rated picks from StockNews.com!
Top Stories on StockNews.com
---