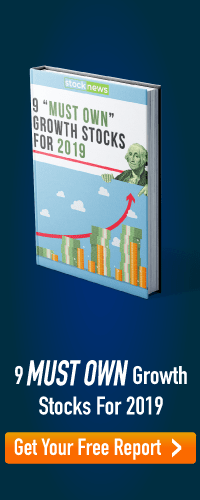 The charts of all the major indices and most individual stocks look terrible. But we are getting some initial signals that the selling is abating.  Here's what to look for.
It's doubtful the market will be able to have a sustainable move higher until concerns about a hawkish Fed and the trade war with China get resolved.  The lack of clarity on those two issues has caused a major shift in investor sentiment where even good news such as strong earnings is being met with selling.  And the recent and rapid declines in FAANG names has been a big blow to market psychology.
At some point, the negativity will exceed what's warranted and valuations will have already come down enough to discount bad news. We are already seeing hints of this in price action.
As discussed, many stocks — whole sectors of the market — have already dropped by 20%, putting them in a bear market.  Here, we find the first glimmer of hope that the worst could be over. During the past week, we've seen sectors such as housing, industrials, and biotechnology have actually moved higher.  These were some of the first and hardest hit stocks and the fact that they are now finding some support suggests the selling is abating.
Housing has rallied some 5% over the past week despite weak housing data.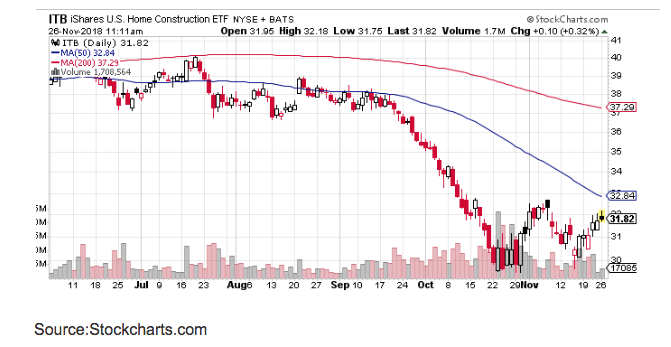 Industrials did not make a new low despite heavyweights, such as Boeing sliding and concerns over slowing global growth.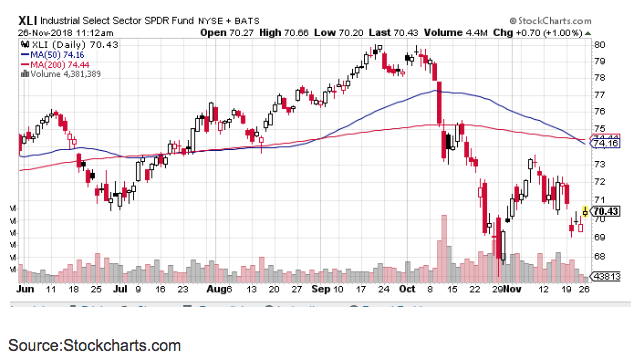 The rotational buying in the most beaten down sectors also helped improve the overall market breadth and the number of issues making new 52-week lows contracted; both are positive signs.
If some of these internal measures continue to improve and more stocks stop selling off on bad news, it would be a strong sign the stock market is nearing an intermediate-term low
There's a saying, and belief, that markets can correct through both time and price. The current market decline began some seven weeks or 48 days ago.  The average length of the last 20 corrections was 45 days. Meaning, it would seem the market has now satisfied both time and price components that would allow for a bottom to be built.
While charts and price action are still troubling, there are some good initial signals that the worst could shift positively by the end of the year.
---
About the Author:
9 "Must Own" Growth Stocks For 2019
Get Free Updates
Join thousands of investors who get the latest news, insights and top rated picks from StockNews.com!
Top Stories on StockNews.com
---