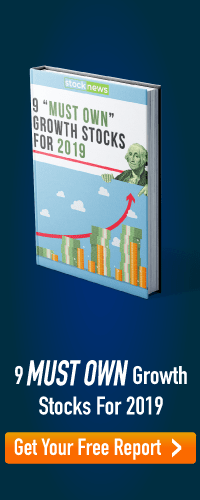 I've written about how I'm not huge on trading off of unusual option activity, as it can be difficult to decipher exactly what might account for the higher volume, such as whether the trade was initiated as a buy or sale? Was it hedging an existing position?  Or if it was simply closing out a current open position?
But, sometimes it's pretty clear that someone is making a big directional bet, especially if the trade occurs in a less known name that doesn't typically see much option activity on a day-to-day basis.   
Such was the case on Monday in Turning Point Brands (TPB),  which established a bullish position with a notional value of some $700,000.
The trade specifics were the sale of 1,000 contracts of the January 40 strike puts, which was used to finance the purchase of the 1,000 of January 50/60 call spreads.
As you can see, from the options chain — below the open interest in these strikes — stands in sharp contrast to the zero contracts open in nearly every other strike.

This is not to say that I want to just blindly follow into a position. But, it does provide a trade idea on which to do some research. In this case, it unearthed a gem that I had been familiar with.
Turning Point Brands provides tobacco products through three segments; both smokeless and smoking, and its most promising for growth, NewGen products. 
Stoker's brand is its lead smokeless tobacco brand with chew being a cash cow, and Moist, a growing brand in a $4B market.  In Smoking, Zig-Zag is a leading brand with significant product launches expected in 2019.  With products such rolling papers, this should get a tailwind as marijuana legalization has increased demand.
The NewGen unit is intriguing from a growth perspective.  It offers e-liquid, and e-cigarette products.  After acquiring IVG, a franchiser of vaping for $56 million, NextGen now accounts for nearly 40% of TPB sales. The company spent $56M in acquisitions and it's focusing on vapor sales. 
TPB is also expected to begin rolling out proprietary CBD products through its Nu-X subsidiary in Q2. With the CBD industry estimated to grow to $10B to $25B in sales, by 2025, making TPB a potential way to have exposure to this growth area with limited investment options. 
Another part of the TPB growth story is market penetration. The company's Stoker's moist snuff, for example, accounts for just 2.9 percent of the overall market.  However, it accounts for 6.7 percent of sales in stores with distribution. This shows that there is plenty of latent demand for the company's brands.
The company has moved to capitalize on this opportunity by beefing up its sales force. TPB recently sealed a deal to sell its moist snuff in Dollar General (DG) stores, and it sees tens of thousands of potential new distribution points for its products.
From a purely technical perspective, the chart also looks bullish.  The stock surged in early May, following a strong earnings report, and has been forming a bullish flag above $47 support level. Today, it appears to be breaking out and set to move higher.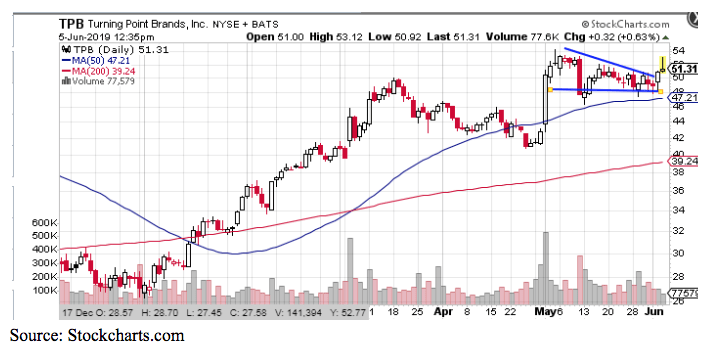 That option trade, while longer term with an expiration that is another 7 months away, is already paying off.
Turning Point is a rare gem in that it is a small player in a stable industry, with a lot of compound earnings potential, over the coming years.
---
About the Author: Steve Smith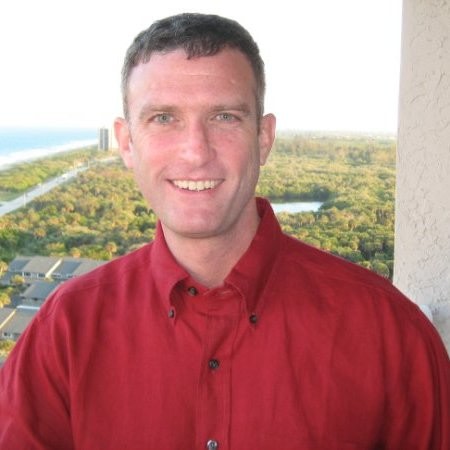 Steve has more than 30 years of investment experience with an expertise in options trading. He's written for TheStreet.com, Minyanville and currently for Option Sensei. Learn more about Steve's background, along with links to his most recent articles. More...
9 "Must Own" Growth Stocks For 2019
Get Free Updates
Join thousands of investors who get the latest news, insights and top rated picks from StockNews.com!
Top Stories on StockNews.com
---