ADBE News Results
Date
Symbol
Company
Title
Start
End
Change
POWR Rating
Loading, please wait...
ADBE News Highlights
For ADBE, its 30 day story count is now at 33.
Over the past 28 days, the trend for ADBE's stories per day has been choppy and unclear. It has oscillated between 1 and 7.
Latest ADBE News From Around the Web
Below are the latest news stories about ADOBE INC that investors may wish to consider to help them evaluate ADBE as an investment opportunity.
In the last year, many Adobe Inc. ( NASDAQ:ADBE ) insiders sold a substantial stake in the company which may have...
The Great Endurance Race of Investing
Dear Friends,
For the full year of 2022 Andvari was down 33.8% net of fees while the SPDR S&P 500 ETF was down 18.2%.* Andvari clients, please refer to your reports for your specific performance and holdings. The table below shows Andvari's composite performance against two benchmarks while the chart shows the cumulative gains of a $100,000 investment.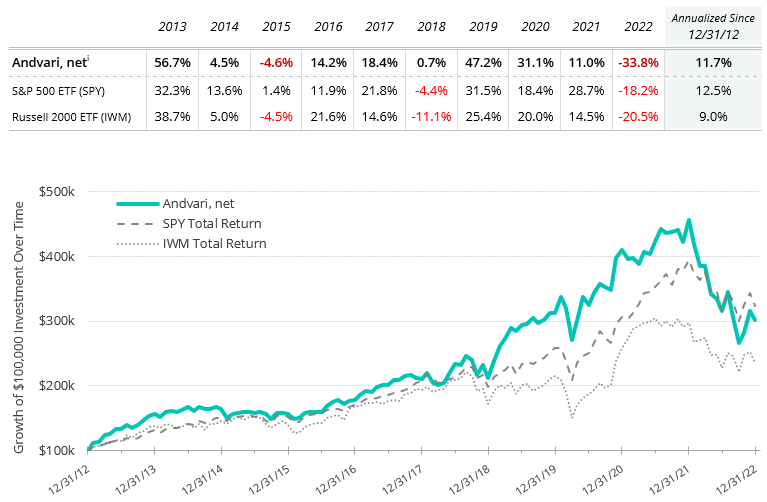 Free cash flow (FCF) is the lifeblood of a business. Two companies that produce loads of FCF yet are trading at a discount are Airbnb (NASDAQ: ABNB) and Adobe (NASDAQ: ADBE). Airbnb has become synonymous with alternative stay accommodations.
SAN JOSE, Calif., February 01, 2023--Today, Adobe (Nasdaq:ADBE) announced that Samsung Galaxy S23 series smartphones globally will use Adobe Lightroom as the exclusive default photo editor for RAW photos taken with the Expert RAW app. The Expert RAW app, available exclusively on Samsung Galaxy, enables DSLR-style image shooting and editing in RAW and JPEG. Once downloaded, Expert RAW app functionality can also be accessed through the native Camera app on the Galaxy S23 series. For an enhanced Ga
Andvari Associates, an investment management company, released its fourth-quarter 2022 investor letter. A copy of the same can be downloaded here. For the full year of 2022, the fund was down 33.8% net of fees compared to the SPDR S&P 500 ETF, which was down 18.2%. In addition, please check the fund's top five holdings to […]
With breakthroughs in machine learning and artificial intelligence, a new era has begun.
When looking for the best artificial intelligence stocks to buy, identify companies using AI technology to improve products or gain a strategic edge.
If you want to know who really controls Adobe Inc. ( NASDAQ:ADBE ), then you'll have to look at the makeup of its share...
Despite recession worries and rising interest rates, these tech stocks are poised for a break out very soon.
The decision is an example of the pandemic's effect on the workplace. Like other employers, Adobe is embracing a hybrid work model as a long-term strategy for its 29,000 employees based around the globe.