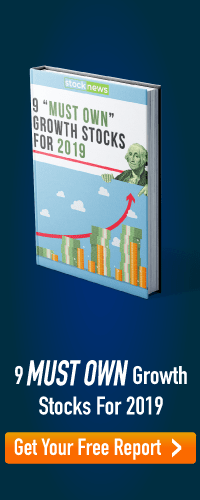 Better yet? Analysts currently expect IIPR to grow its AFFO/share by about 100% in 2018, 100% in 2019 and a still very fast 40% in 2020. In fact, analysts are forecasting 40% annualized AFFO/share growth (which is what the share price is ultimately based on) for the next 10 years.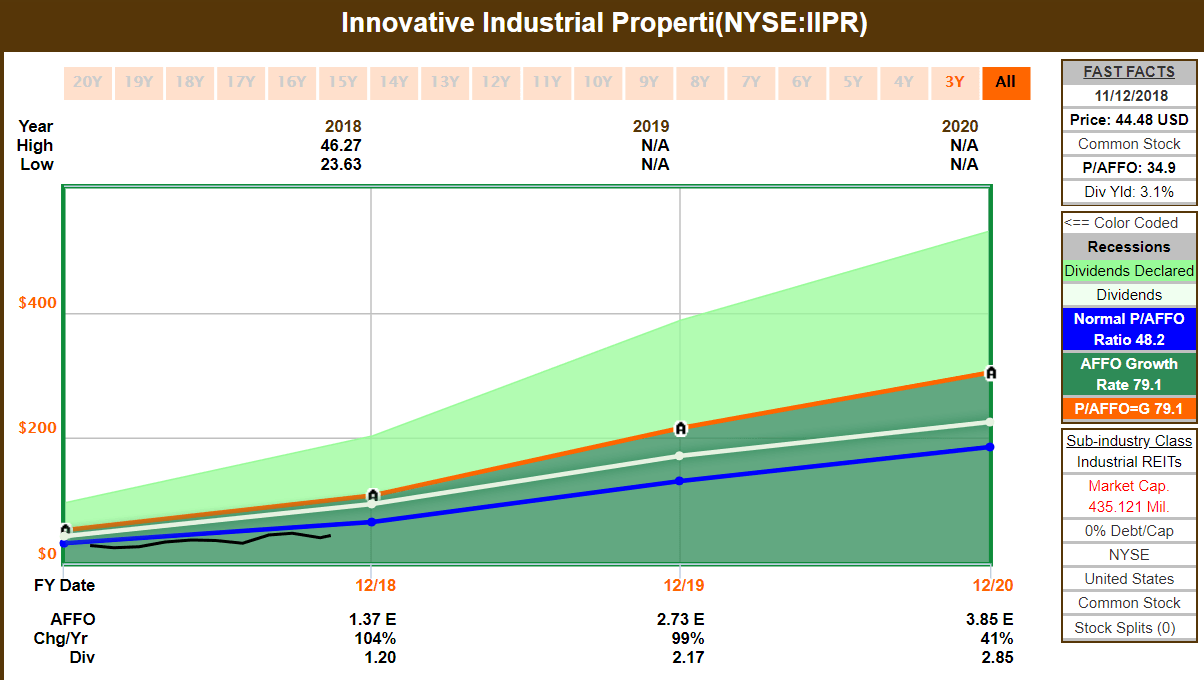 (Source: Fast Graphs)
The dividend is expected to grow slightly slower, to let the REIT lower its AFFO payout ratio and thus retain more cash to reinvest in the business. That's a very good thing because a unique feature about IIPR's funding strategy is that it has no debt and plans to issue no debt in the future. That's because no institutional investors will buy bonds in any way connected to a business that is, at least at the Federal level, 100% illegal. (See risk section).
However, over time IIPR should be able to lower its payout ratio to about 50%. That's typically the lowest a REIT can go because to maintain REIT status (and pay no corporate taxes) all REITs must pay out 90% of taxable income as dividends. Taxable income for a REIT is NOT the same as GAAP EPS or AFFO. Typically the minimum payout ratio required to maintain REIT status is about 50%. If IIPR gets to that payout ratio then not just will the dividend be one of the safest in all of REITdom, but it will be retaining 33% of its cash flow and thus able to lower its equity issuances. Since every new share sold is dilutive (and raises the dividend cost) achieving this level of internal funding will allow IIPR to maintain its hyper-growth rate even longer.
Ok, so IIPR is a very fast growing REIT, whose dividend (and share price) are soaring to the heavens on the back of the secular tailwinds created by this fast-growing industry. But just how much can investors make on this REIT? Well, that depends on whether you believe analysts hyper bullish growth assumptions (I personally think they are overly optimistic). But realistically I think investors might be able to multiply their money 10 fold over the next decade.
Dividend Hypergrowth Potentially Means Some Of The Best Stock Returns Of The Coming Decade AND The Stock Is Also Reasonably Priced
Total returns are made up of three parts: yield, share price appreciation (a function of cash flow and dividend growth) and valuation changes. I'll address valuation in a second but assuming a dividend stock starts out at fair value then total returns will generally follow the formula yield + dividend growth.
Yield: 3.1%
2018 AFFO payout ratio: 88%
Debt/Adjusted EBITDA: 0 (no debt)
Analyst Consensus 10 Year AFFO/share Growth Rate: 40%
Realistic 10 Year Cash Flow Growth Rate: 20%
My Expected 10 Year CAGR Dividend Growth Rate: 15% to 20%
Potential CAGR Total Return: 43.1% (Based On Analyst Consensus)
Realistic Long-Term CAGR Total Return: 18.1% to 23.1%
S&P 500's Historical CAGR Total Return: 9.2%
Expected 5 to 10 Year CAGR S&P 500 Total Return (Morningstar, BlackRock, Vanguard): 0% to 5%
---
About the Author: Adam Galas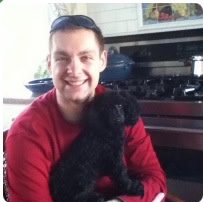 Adam has spent years as a writer for The Motley Fool, Simply Safe Dividends, Seeking Alpha, and Dividend Sensei. His goal is to help people learn how to harness the power of dividend growth investing. Learn more about Adam's background, along with links to his most recent articles. More...
9 "Must Own" Growth Stocks For 2019
Get Free Updates
Join thousands of investors who get the latest news, insights and top rated picks from StockNews.com!
Top Stories on StockNews.com
---