Adobe Inc. (ADBE) is increasingly garnering investors amid moves to capitalize on the burgeoning artificial intelligence (AI) market. The software powerhouse has quickly adopted generative AI technology, which coherently complements its business model, resulting in rapid innovation across its extensive product portfolio. The company's recent rollouts include Firefly, Express, Creative Cloud, and GenStudio.
ADBE's pronounced emphasis on AI can potentially propel sustained growth over the long term. Despite its high valuation, this presents what appears to be a compelling investment opportunity.
"Our innovation engine, global reach, and strong operational rigor position us to capture the massive opportunities ahead," said Dan Durn, executive vice president and CFO, Adobe.
While ADBE certainly looks poised as an ideal contender in the AI stock sphere, it is crucial to delve deeper into its key metrics to assess its prospects thoroughly.
Analyzing the Trends and Fluctuations in Adobe Inc.'s Financial Performance
Looking at the reported trailing-12-month net income of ADBE, the following trends and fluctuations can be observed: – From August 2020 to September 2021, there's a steady upward trend in ADBE's net income. It increased from $3.86 billion in August 2020 to $5.83 billion by September 2021. Post-September 2021, Adobe's net income experienced a decline. By December 2022, it fell to $4.75 billion, a fluctuation from the preceding upward trend. Here are some key data points:
August 2020: $3.86 billion
November 2020: $5.26 billion
March 2021: $5.56 billion
June 2021: $5.58 billion
September 2021: $5.83 billion (peak value)
December 2021: $4.82 billion
March 2022: $4.83 billion
June 2022: $4.89 billion
September 2022: $4.81 billion
December 2022: $4.76 billion
March 2023: $4.74 billion
June 2023: $4.85 billion (most recent value)
For a broader perspective, the net income registered a growth from the first value of $3.86 billion in August 2020 to $4.85 billion in June 2023. This signifies a growth rate of approximately 25.6% over this period. Please note that while there are fluctuations, the emphasis here is on more recent data, which indicates a slight rebound in the most recent quarter.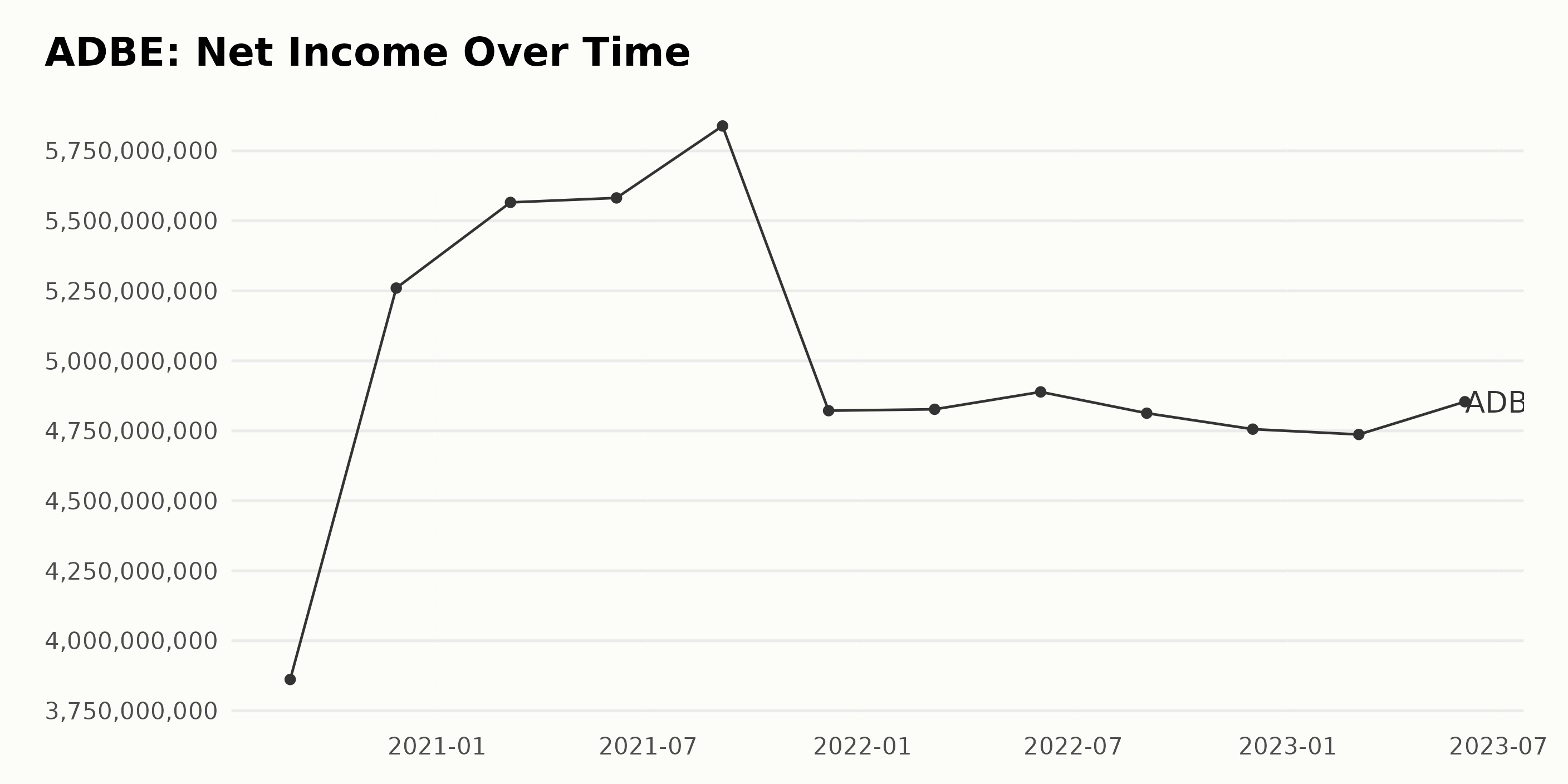 The trailing-12-month revenue of ADBE has been steadily increasing from August 2020 to June 2023, according to the data series. Below are some key points:
In August 2020, Adobe reported a revenue of $12.44 billion.
A notable steady increase in revenue is observed; reaching $12.87 billion in November 2020, which further increased to $13.68 billion by March 2021.
By June 2021, the company's revenue crosses the benchmark of $14 billion to $14.39 billion.
A continuous growth pattern follows, with revenues hitting $15.79 billion and $16.14 billion in December 2021 and March 2022, respectively.
As of June 2022, the revenue reached $16.69 billion, and it maintains an upward trend, registering $17.19 billion and $17.61 billion in September and December 2022.
The latest figures for 2023 show incremental growth, with the values being $18 billion in March and $18.43 billion in June. Comparing the first reported value with the last ($12.44 billion in August 2020 and $18.43 billion in June 2023) indicates a healthy growth rate in Adobe's revenue during this period.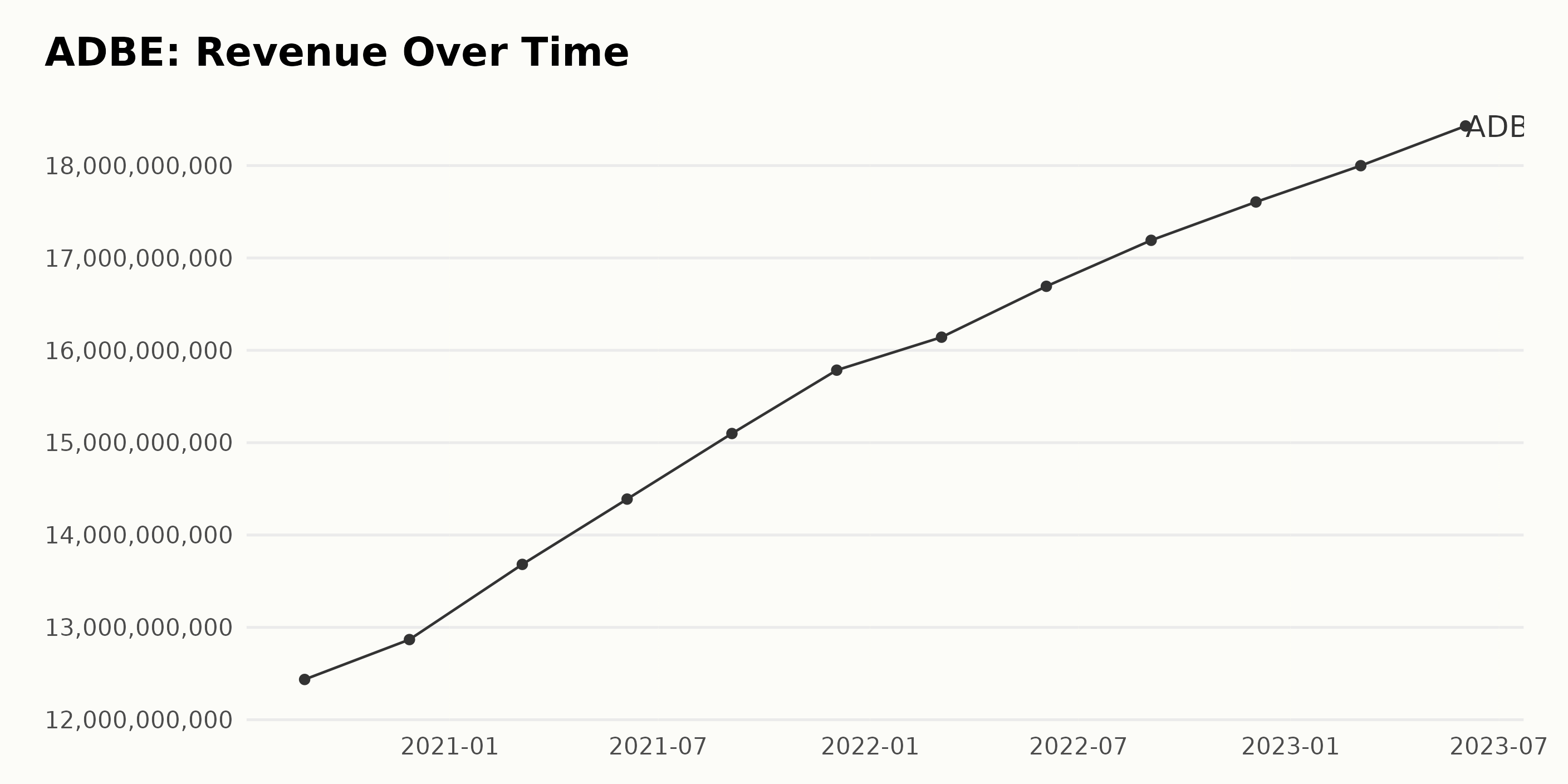 The gross margin of ADBE has witnessed a slight fluctuation over the time period from August 2020 to June 2023. Here is a quick summary of the changes:
In August 2020, the gross margin stood at 86.00%.
There was a minor increase by the end of November 2020 to 86.60%.
By March 2021, it had further increased to 87.50%, and this upward trend persisted until September 2021, when the gross margin peaked at 88.20%.
However, from December 2021 to March 2022, the gross margin remained constant at 88.20%.
A slight drop to 88.00% was observed in March 2022, which continued to decrease marginally to 87.70% by December 2022.
From March 2023 to June 2023, the gross margin remained steady at 87.80%.
Overall, there has been an approximate increase in the gross margin of 1.80% over the stipulated timeframe. The most significant rate of growth was observed between August 2020 and September 2021. ADBE's gross margin has been largely stable, with minor fluctuations reflecting a general upward trend, and appears slightly declining in recent months.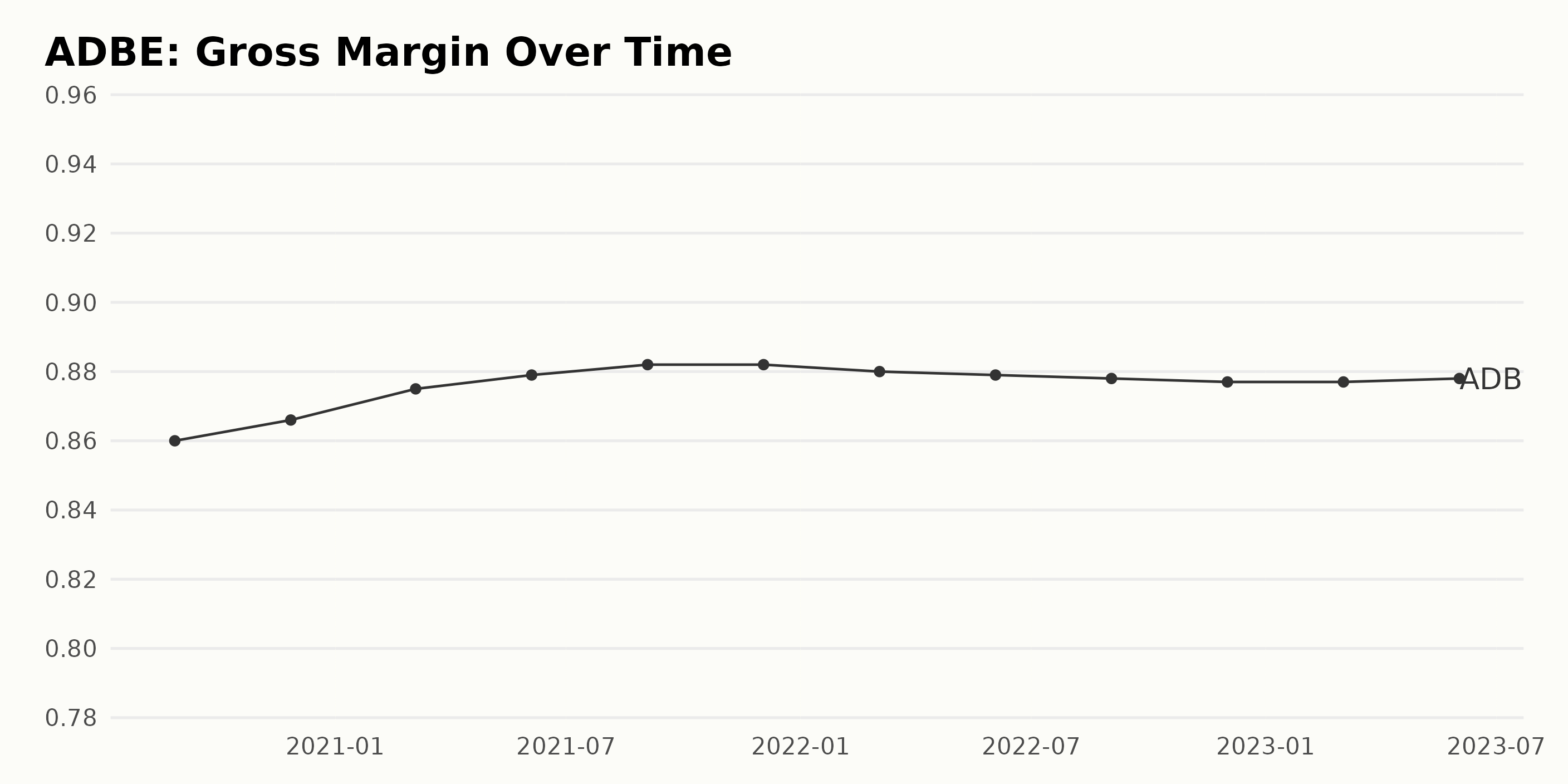 The Asset Turnover data for ADBE from August 2020 to June 2023 presents an overall increasing trend with some fluctuations. Here's a summary of the significant observations:
On August 28, 2020, the Asset Turnover was 0.58.
It decreased slightly to 0.57 by November 27, 2020.
From then on, there has been a generally increasing trend in Asset Turnover.
By March 5, 2021, it had increased slightly to 0.59 and continued its increasing trend to 0.60 on December 3, 2021.
The growth persisted through 2022, with the Asset Turnover reaching 0.67 on December 2, 2022.
Recent data, as of June 2, 2023, puts the Asset Turnover at 0.68.
Noteworthy is the multi-year rise in the Asset Turnover. From August 2020 to June 2023, Asset Turnover increased from 0.58 to 0.68, indicating a growth rate of 17.2%. It is important to keep an eye on recent data as these usually indicate current trends and can signal future changes.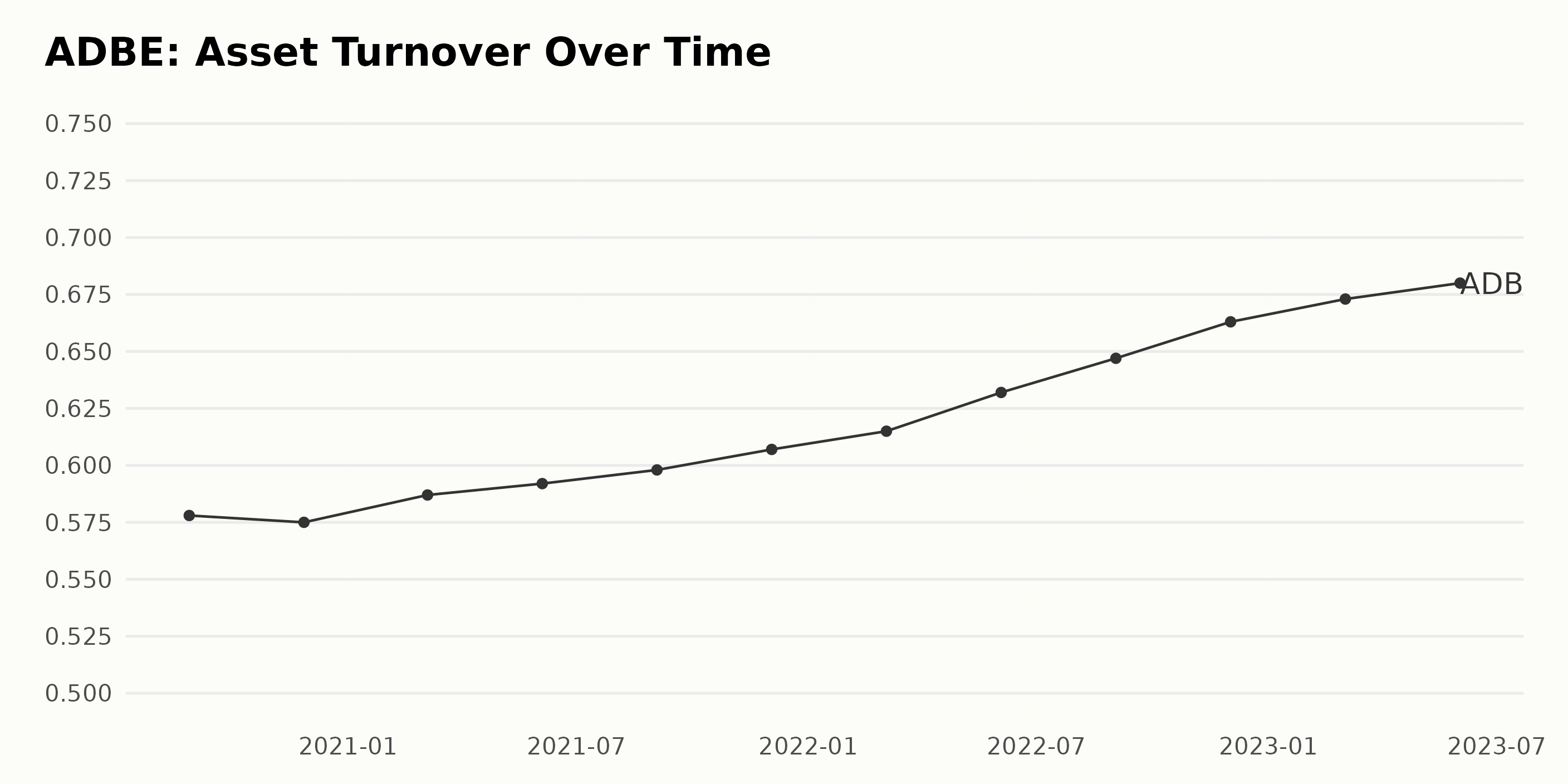 Analyzing Adobe Inc.'s Share Price Fluctuation from March to September 2023
The data provided track the share price of ADBE from March 2023 to September 2023. Below is an interpretation of this data:
As of March 31, 2023, the share price of ADBE was $380.88.
Over the course of April, the price fluctuated between $381.48 (April 6, 2023) and $371.16 (April 28, 2023).
In May, the share price saw a significant decline initially but rebounded at the end of the month. It fell from $356.09 (May 5, 2023) to a low of $341.67 (May 12, 2023), then surged to $381.71 by May 26, 2023.
The period from June to mid-July was marked by a strong acceleration in the growth rate of the share price, which reached a high of $523.64 on July 21, 2023.
Through August and early September, the share price sees varying rates of deceleration and acceleration, with the value reaching a peak at $561.31 on September 8, 2023.
However, towards the end of September, there was a significant deceleration, with the share price falling to $528.51 on September 22, 2023.
Overall, between March and September 2023, Adobe's share price shows a clear uptrend despite short-term fluctuations. The most significant growth acceleration occurs in June and July, followed by a period of deceleration in late September. Here is a chart of ADBE's price over the past 180 days.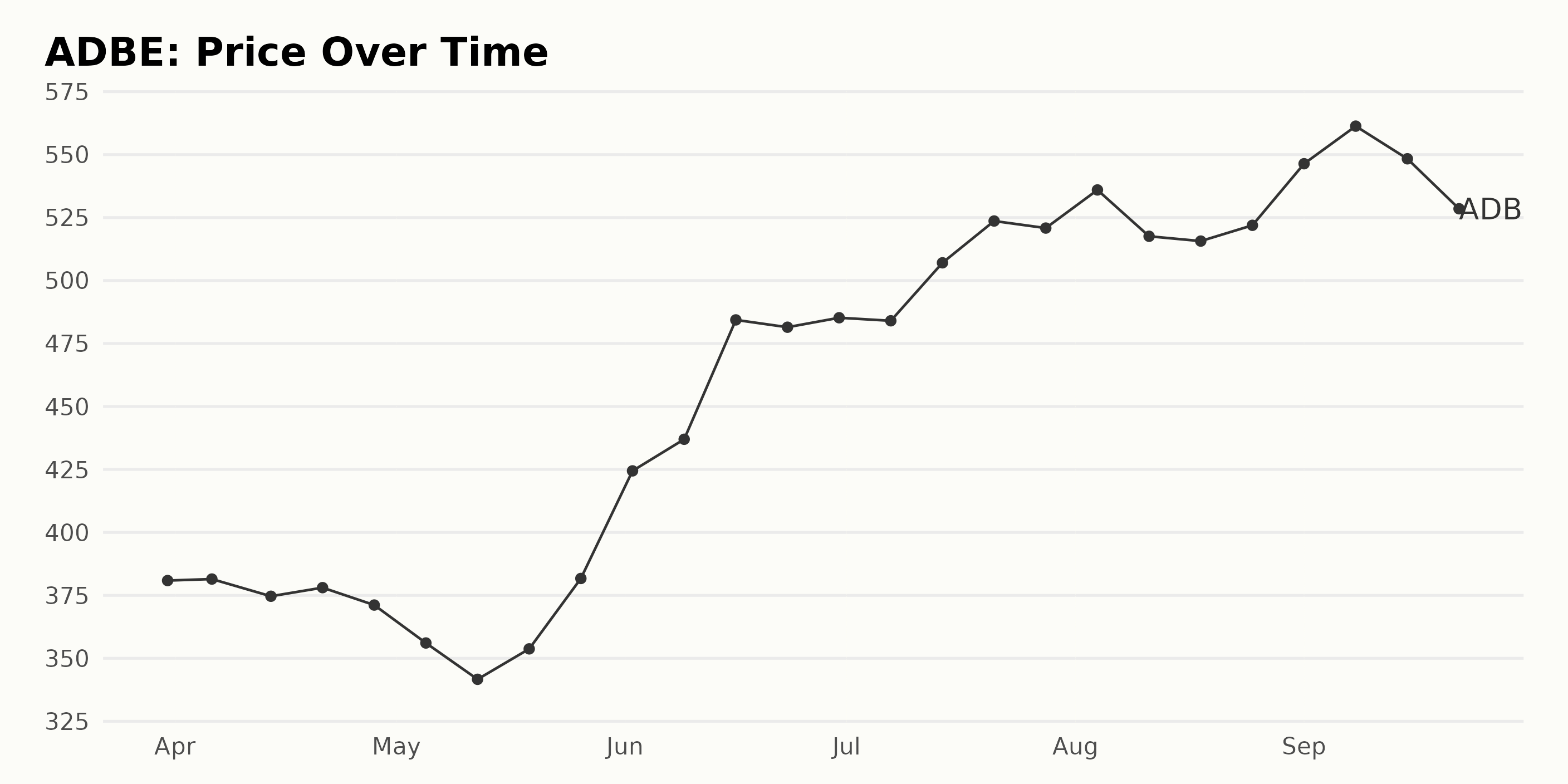 Analyzing Adobe Inc.'s Noteworthy POWR Ratings: Quality, Sentiment, and Growth
ADBE has an overall B rating, translating to a Buy in our POWR Ratings system. It is ranked #21 out of the 132 stocks in the Software – Application category.
Based on the POWR Ratings data provided, the three most noteworthy dimensions for Adobe Inc. (ADBE) appear to be Quality, Sentiment, and Growth.
Here's an analysis of these dimensions over time:
Quality: Consistently, Quality has been the highest-rated dimension for Adobe Inc., achieving full marks of 100 by June 2023, which continues through to September 2023. Prior to this, in March and April of 2023, Adobe held a Quality rating of 99, suggesting an impressive and consistently high performance in this respect.
Sentiment: The Sentiment score for Adobe demonstrated a progressively positive trend in the data provided. From March 2023 to September 2023, Adobe's Sentiment value saw an increase from 80 to 88, reflecting a growing positive sentiment towards the company.
Growth: The Growth dimension experienced fluctuations but overall demonstrated a positive trend. Starting at a value of 41 in March 2023, the score dipped to 39 in May before escalating to reach a peak of 57 in July 2023. Despite a subsequent fall to 50 by September, these ratings still indicate a generally strong Growth potential for Adobe.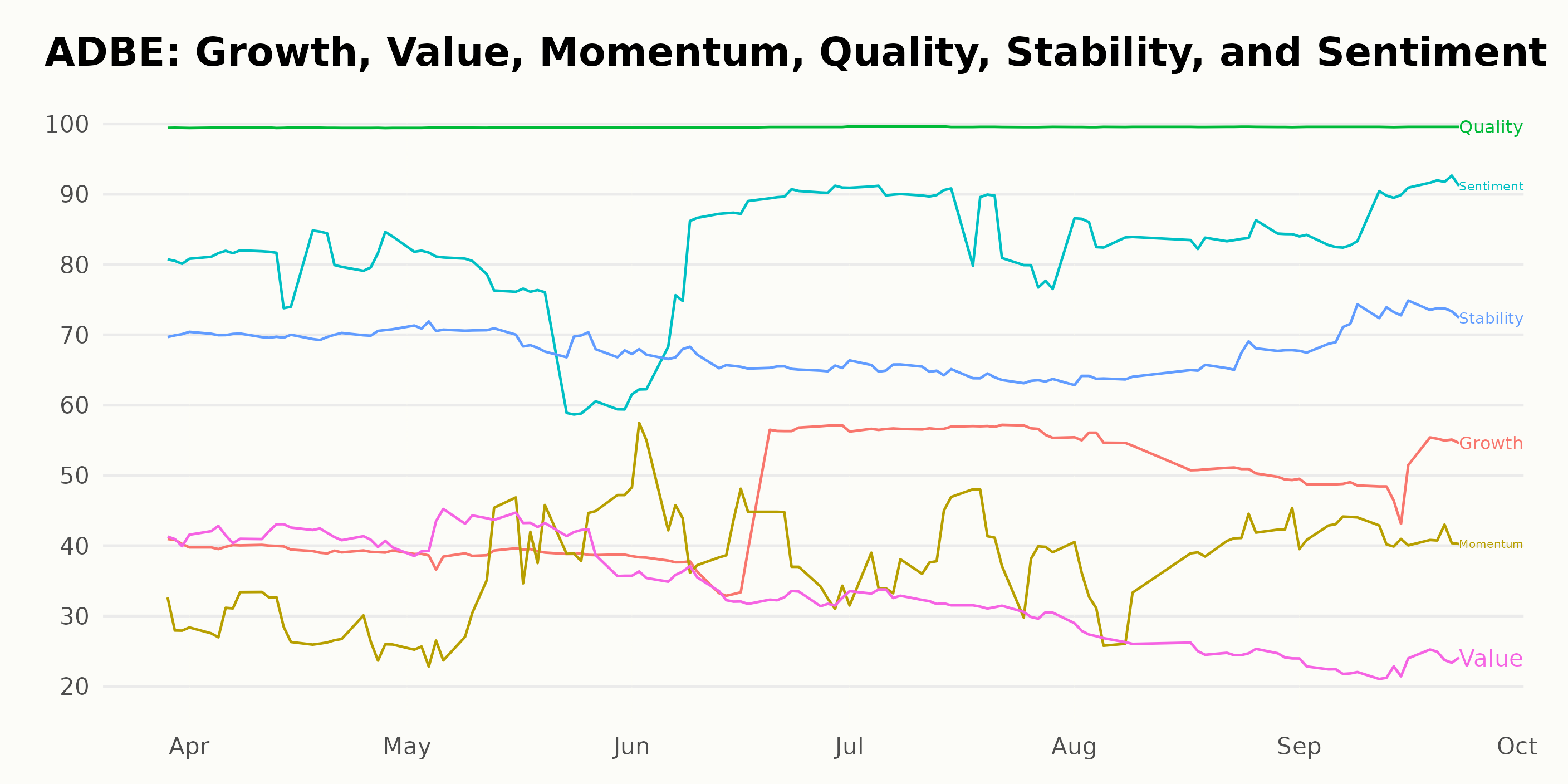 How does Adobe Inc. (ADBE) Stack Up Against its Peers?
Other stocks in the Software – Application sector that may be worth considering are eGain Corporation (EGAN), Commvault Systems Inc. (CVLT), and TeamViewer SE (TMVWY) — they have better POWR Ratings.
What To Do Next?
Get your hands on this special report with 3 low priced companies with tremendous upside potential even in today's volatile markets:
3 Stocks to DOUBLE This Year >
Want More Great Investing Ideas?
---
ADBE shares were trading at $509.85 per share on Monday morning, down $3.05 (-0.59%). Year-to-date, ADBE has gained 51.50%, versus a 14.09% rise in the benchmark S&P 500 index during the same period.
About the Author: Subhasree Kar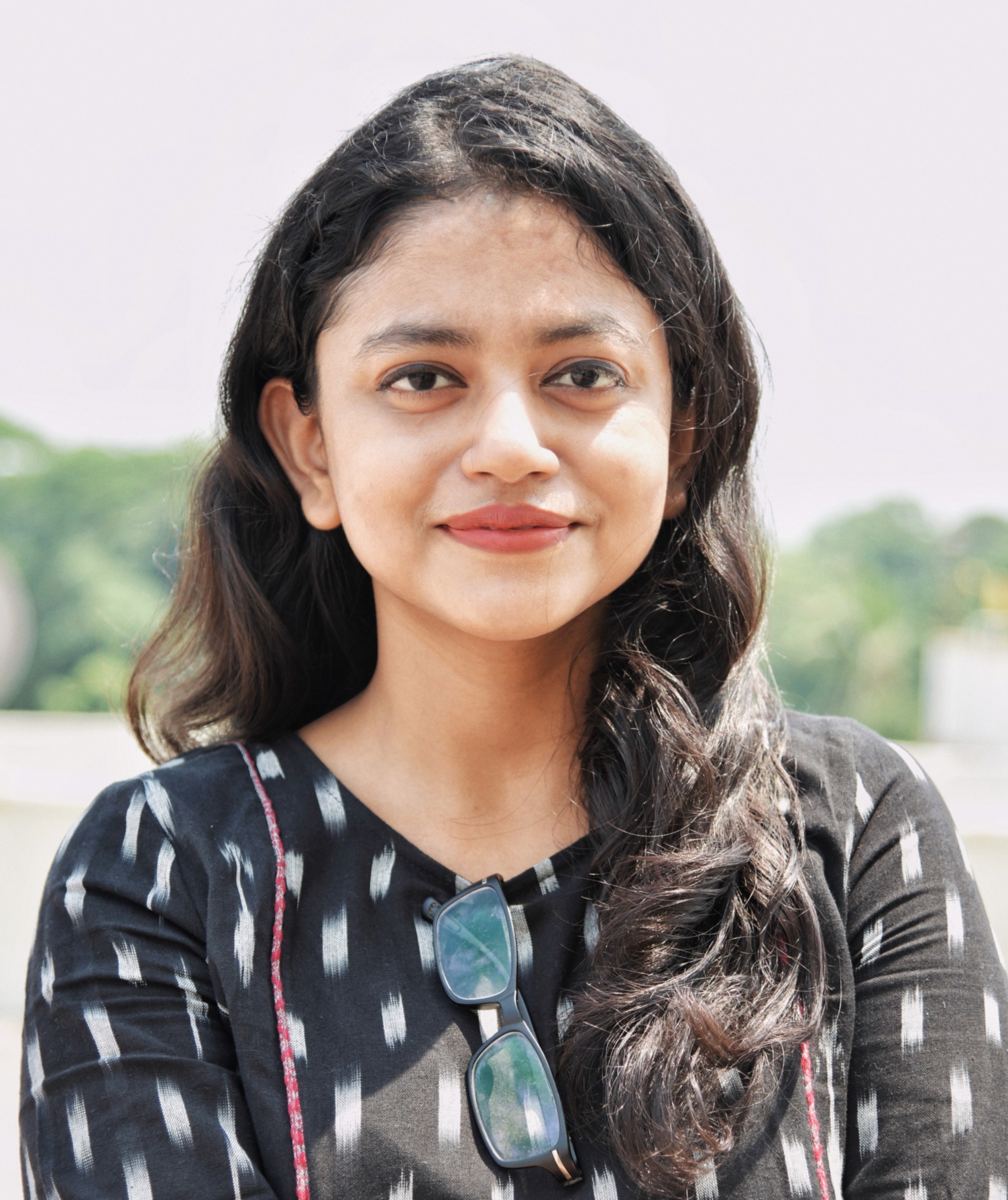 Subhasree's keen interest in financial instruments led her to pursue a career as an investment analyst. After earning a Master's degree in Economics, she gained knowledge of equity research and portfolio management at Finlatics. More...
More Resources for the Stocks in this Article