There is a dynamic tension between FedEx (FDX), the world's largest packaged goods delivery company, and Amazon (AMZN), the single largest shipper. For years, the former garnered low margins and stresses to its system as even as the latter was building its own internal delivery infrastructure to compete and make it less reliant on FedEx.  
If you didn't follow that confusing sentence structure don't worry, this week, FedEx clarified the situation by dropping its contract with Amazon, like a soggy box, when the ends in August.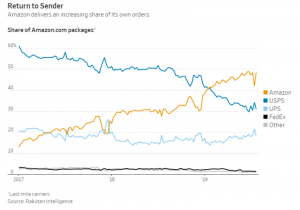 (Source: Amazon.com)
The announcement comes on the heels of its decision in June to stop providing air shipments.  Now, FedEx is severing ties with one of the world's biggest and will no longer offer ground transport.  The last mile is the most costly and logistically difficult parts of the system. 
The moves are evidence of escalating tensions between the longtime partners as the e-commerce giant builds its own delivery network, including leasing cargo planes, buying trucks and funding local delivery drivers.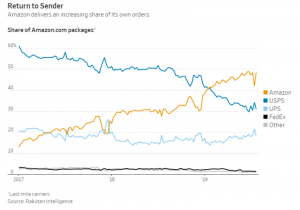 (Source: Amazon.com)
Essentially, FedEx is gambling that it's better off filing its trucks with other customers' goods, letting Amazon build its own system or increasingly rely on stressed-out competitors such as United Parcel (UPS) and the U.S Postal System. I certainly scratch my head on how it makes any economic sense whenever.
If I order items such as batteries or some tennis balls, they show up the next day, which reminds me, I need new balls.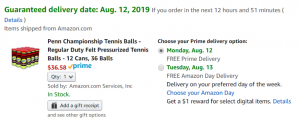 (Source: Amazon.com)
What? Three days? That's outrageous! 
Anyway, while FedEx is walking away from the largest e-commerce player in the U.S., they are positioning themselves as a go-to carrier for Wal-Mart (WMT) and  Target (TGT), who've both aggressively ramped up their online platform to compete with Amazon.
FedEx's CEO explained it this way: "This change is consistent with our strategy to focus on the broader e-commerce market."  And the reality was AMZN represented less than 2% or of FDX's overall business. 
The decision of FDX to focus on more profitable, and less conflicted customers, also puts pressure on Amazon to find a new way to handle millions of packages ahead of the critical holiday shopping season. At the same time, Amazon is looking to speed many home deliveries to one-day shipping.
While Amazon has accelerated the build-out of its own shipping system faces a steep climb if it wants to match FedEx or United Parcel Service, Inc. (UPS) in shipping prowess. Analysts have estimated it will take upwards of $100 billion dollars in investments to come close to matching the number of planes, trucks, and people required to deliver its billions of packages per year. 
I applaud FedEx's move. While nearly everything can be bought online, these items still need to be physically delivered. FedEx is the leader and its shares should do the same.   
---
AMZN shares were trading at $1,803.61 per share on Friday morning, down $29.28 (-1.60%). Year-to-date, AMZN has gained 20.08%, versus a 17.01% rise in the benchmark S&P 500 index during the same period.
About the Author: Steve Smith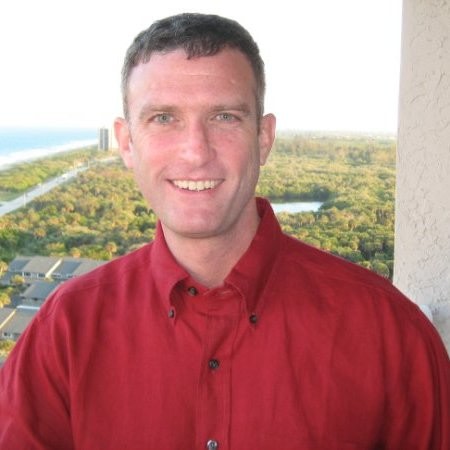 Steve has more than 30 years of investment experience with an expertise in options trading. He's written for TheStreet.com, Minyanville and currently for Option Sensei. Learn more about Steve's background, along with links to his most recent articles. More...
More Resources for the Stocks in this Article