No one can deny that it's been a painful summer, and now fall for the cannabis sector. Sitting at yearly lows many of the large-cap stocks breathed a sigh of relief last week as the sector was in the green for a few days.
On Monday (yesterday) the sector was hit with a wave of more negative news from analysts Tamy Chen and Peter Sklar from BMO. These analysts cut their outlook on the cannabis sector with "cash flow worries" which sent the large caps plummeting once again. It's almost as if everyone and their uncle is now bearish on the sector, but don't they say that when everyone is saying something negative about the sector, that's the time to get in? Eventually we will hit a point where these companies are fairly valued in the eyes of investors and the stocks should recover but usually, there is an over-exaggeration to the upside and the downside. When will the selling stop and at what point are the companies oversold?
That is a hard question to answer but one company we continue to follow and feel confident about is Cronos. This stock keeps on sinking and the further it goes, the more we like it.
First, we are going to see what Tamy Chen and Peter Sklar had to say about Cronos this week. Second, we want to point out the most valuable assets Cronos has and why we think the stock is worth looking at now. First off, Tamy Chen and Peter Sklar lowered their 2020 sales forecast for Cronos Group by 26% to C$174 million. As these analysts rain more negativity on the sector Cronos has declined from a peak of almost $33 to sit just under $12 at current prices.
So what is there to like about Cronos and why should you consider the stock today? The first thing about Cronos is the fact that they have the Altria group on their side. Altria invested 2.4 billion into Cronos earlier in the year and as the cannabis market matures this partnership could provide to be extremely lucrative in the future. Altria has been around for many years and has its products on thousands of shelves across America. One could say that Cronos is a heavy bet on federal legalization in the United States which is still not 100% but many signs point towards that happening. Cronos will be able to leverage Altria's deep-rooted distribution network to roll out all sorts of product lines with immediate revenue. This partnership is great, but many investors already know this and have priced it into the stock, but what else does Cronos have to offer?
Cronos recently announced that they would acquire the CBD businesses of Redwood Holdings LLC including the premium brand Lord Jones. By doing so Cronos has bought into a deeply rooted and highly reputable brand that will see immediate revenues, not to mention having huge potential to grow now that CBD was just recently made legal across the United States.
For us, Cronos comes off as a very strategic company. They don't have the biggest production capacity compared to their peers, but production capacity alone is not everything. The only downside we see for Cronos is a slower path to US federal legalization, and that could hold the stock back. If and when we see full-scale federal legalization in the United States, we do expect Cronos to take off like a rocket. If you are looking for an innovative play in the cannabis sector with one of the youngest CEOs in charge, Cronos group might be the right fit for you.
---
CRON shares were trading at $8.63 per share on Tuesday morning, down $0.24 (-2.71%). Year-to-date, CRON has declined -16.94%, versus a 17.74% rise in the benchmark S&P 500 index during the same period.
About the Author: Aaron Missere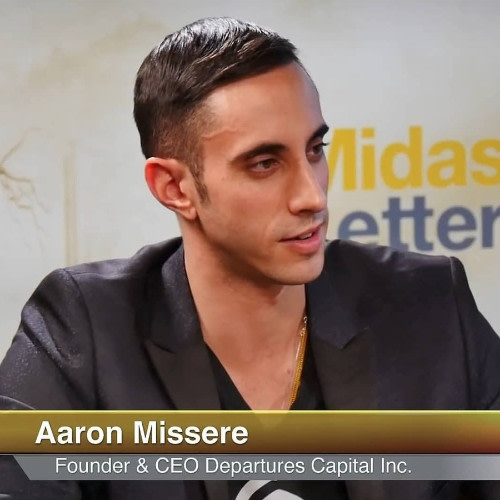 Aaron is an experienced investor who is also the CEO of Departures Capital. His primary focus is on the cannabis industry. He also hosts a weekly show on YouTube about marijuana stocks. Learn more about Aaron's background, along with links to his most recent articles. More...
More Resources for the Stocks in this Article