Woodward, Inc. (WWD) is set to release its fiscal fourth-quarter 2023 results on November 16, 2023. Market expectations are high, with the revenue for the quarter ended September 2023 forecasted at $767.92 million, an impressive 20% surge compared to the same period last year. Furthermore, the earnings per share (EPS) consensus estimate will likely be $1.31, marking a year-over-year growth of 56.4%.
Pivotal to the company's success is its ability to leverage robust end-market demand across all business sectors. Reflecting positively on its financial health, during its third quarter report, Woodward projected a strong finish to the fiscal year while revising its full-year outlook upwards.
WWD's annual sales projections fall within the range of $2.85-$2.9 billion, while it expects its adjusted EPS to come in between $4.05 and $4.25.
Considering WWD's commendable history of surpassing analysts' earnings estimates over the trailing four quarters and exceeding revenue estimates in three out of the four, the company's financial performance continues to impress.
These achievements can be accredited to a surge in demand and increased on-highway natural gas truck production in China, which are contributing significantly to Woodward's success story.
These encouraging trends indicate that WWD might be a noteworthy stock to monitor closely as it prepares for its fourth-quarter earnings release. Key performance metrics and consistent growth, supports my bullish outlook for the company.
Analyzing Woodward Inc.'s Financial Performance from 2020 to 2023: A Tale of Growth, Decline, and Recovery
The trailing-12-month net income of Woodward Inc. (WWD) has exhibited consistent fluctuations over the data series from December 2020 to June 2023. Here is a summarized view of the trend:
At the start of the data series on December 31, 2020, Woodward Inc.'s Net Income was at $228.59 million.
Throughout 2021, the company's Net Income gyrated around an average value, peaking at $215.98 million in June 2021, and reaching its lowest point at $197.38 million by the end of the year.
In the first half of 2022, there was a noticeable decrease in Net Income, reaching $167.56 million by the end of June 2022. However, this downward trend reversed slightly with a figure of $171.69 million reported in September 2022.
Despite a marginal decrease from the September value, the Net Income stood at $170.99 million at the end of 2022.
There was a downturn in the Net Income in the first quarter of 2023, hitting $158.60 million. Nevertheless, a dramatic recovery occurred in the following quarter, with Net Income soaring to $203.75 million as of June 30, 2023.
Notably, the recent upswing in June 2023 might point towards a potential turnaround for the company if this upward trajectory persists.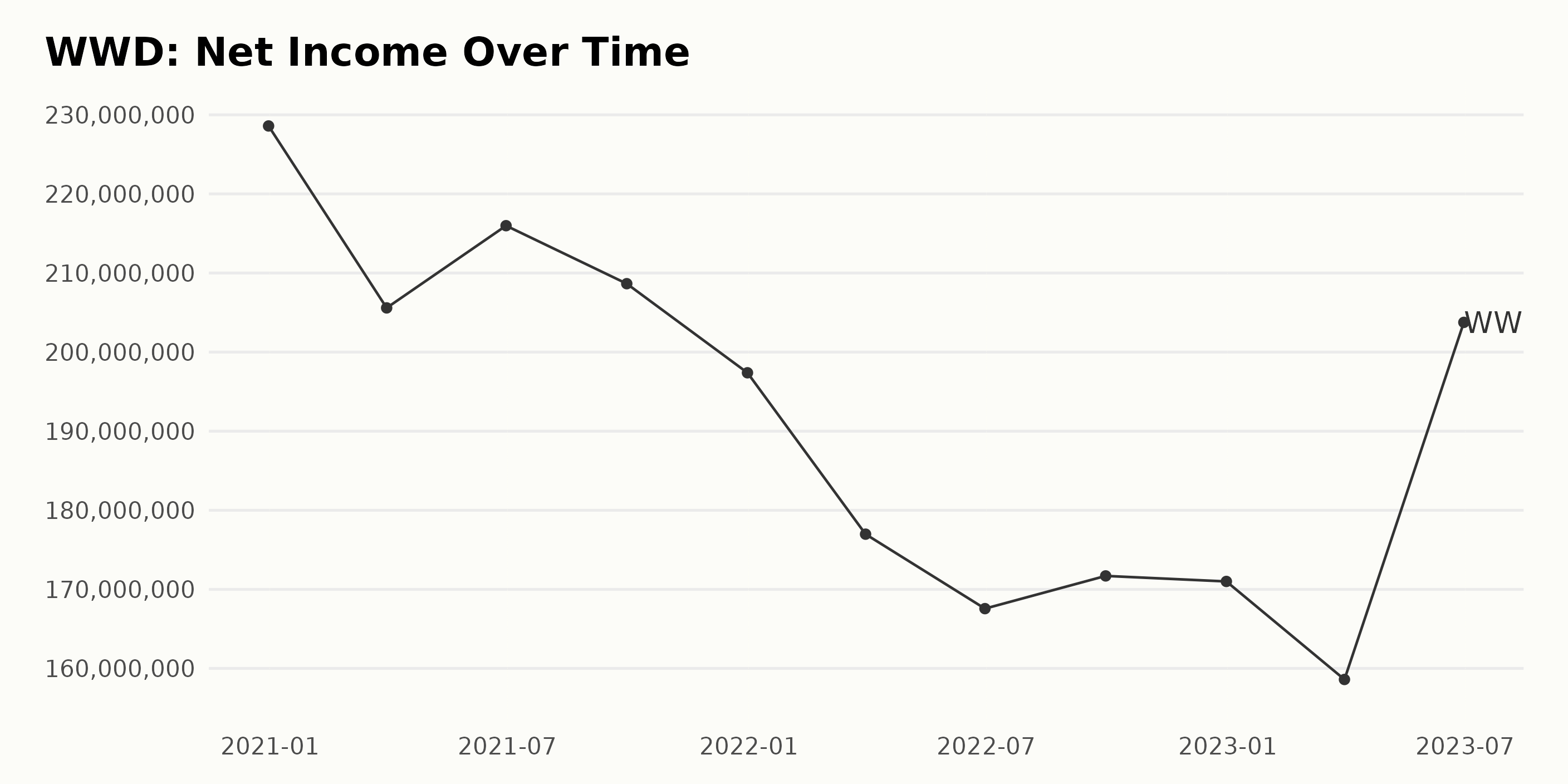 WWD's trailing-12-month revenue data over the past few years demonstrates an overall growth trend, with some mild fluctuations. Here is a summary:
As of December 31, 2020, the Revenue was $2.31 billion.
There was a slight drop in Revenue to $2.17 billion by March 31, 2021. It gradually climbed to about $2.25 billion by the end of December 2021.
Throughout 2022, the Revenue showed a consistent growth from $2.26 billion on March 31 to reach $2.46 billion by December 31, 2022.
For the first half of 2023, there was a significant increase in Revenue from $2.59 billion on March 31 to $2.78 billion on June 30, 2023.
In terms of growth rate, comparing the first reported value on December 31, 2020, and the last value on June 30, 2023, Woodward Inc.'s Revenue has increased by approximately 20%. Despite the small transient drops in the second quarter of 2021, the general trend for Woodward Inc.'s Revenue is positive and consistent, showing the company's resilience and stability. The most recent data, especially, highlights a significant upward progression. This could be indicative of a robust business model, effective revenue strategies, or favorable market conditions, among others.
The DPS of WWD has been showing a conspicuous upward trend in the past couple of years, with some minor fluctuations. Here's a summary:
On December 31, 2020, the DPS was $0.52.
Showing its first significant drop, by March 31, 2021, the DPS decreased to $0.41.
The subsequent quarters of 2021 demonstrated a gradual rebound and growth, climbing to $0.49 by June 30, $0.65 by September 30, and maintaining at $0.65 as of December 31.
Throughout 2022, there was a consistent surge in the DPS, peaking at $0.76 on both September 30 and December 31.
Further slight increases were recorded into 2023, with the DPS reaching $0.79 by March 31 and $0.82 by June 30.
A primary focus on the more recent data shows continued positive growth in DPS value for Woodward Inc. (WWD). Notably, from the start of 2022, the company's DPS experienced steady elevation each quarter, marking a stable phase of growth. From the first recorded value to the last, it appears that the DPS experienced an approximate growth rate of about 57%. This suggests a robust financial performance for Woodward Inc. over the period under review.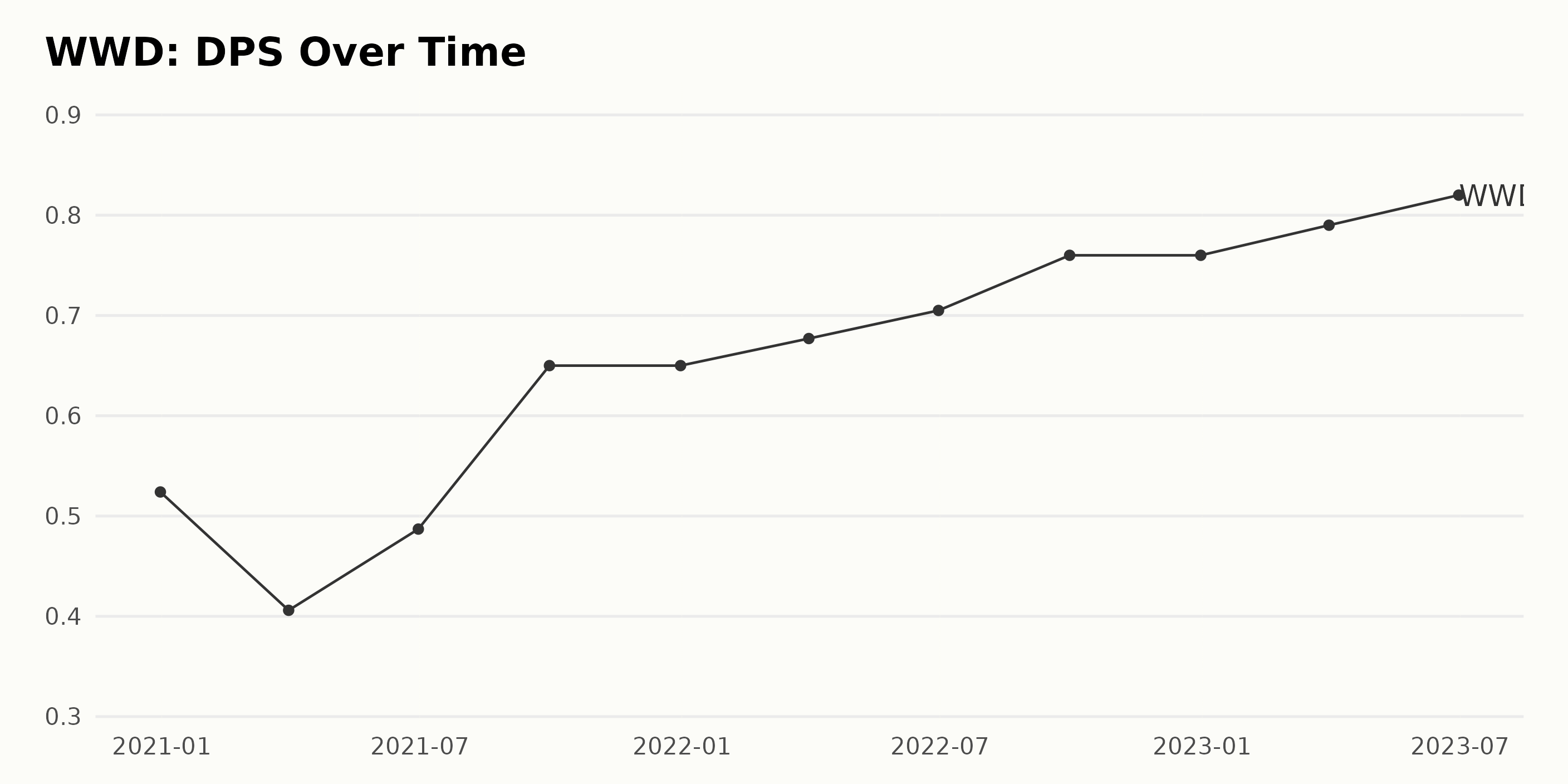 From the detailed data given, WWD has shown significant growth and fluctuations in their Asset Turnover over three years from December 2020 to June 2023.
As at December 2020, the Asset Turnover value was at 0.58.
There was a slight downward trend visible in the first quarter of 2021 as the Asset Turnover went down to 0.55 in March 2021. This trend remained relatively stable up until the end of 2021.
In the first half of 2022, there began a steady incremental growth seen increasing by nearly 6%, with June 2022 recording an Asset Turnover of 0.59.
The last two quarters of 2022 saw a significant increase in their turnover. In September 2022 it rose to 0.62, and by the end of the year 2022, it further increased to 0.64.
Into the first half of 2023, this growing trend sustained. In March 2023, the asset turnover value reached 0.67, and by June 2023, it further soared to its highest recorded value of 0.71.
From the start in December 2020 to the end at June 2023, the asset turnover value of WWD went from 0.58 to 0.71, marking a growth rate of 22%. It's important to note that more recent data suggests that WWD is on an ascending path with regards to its Asset Turnover.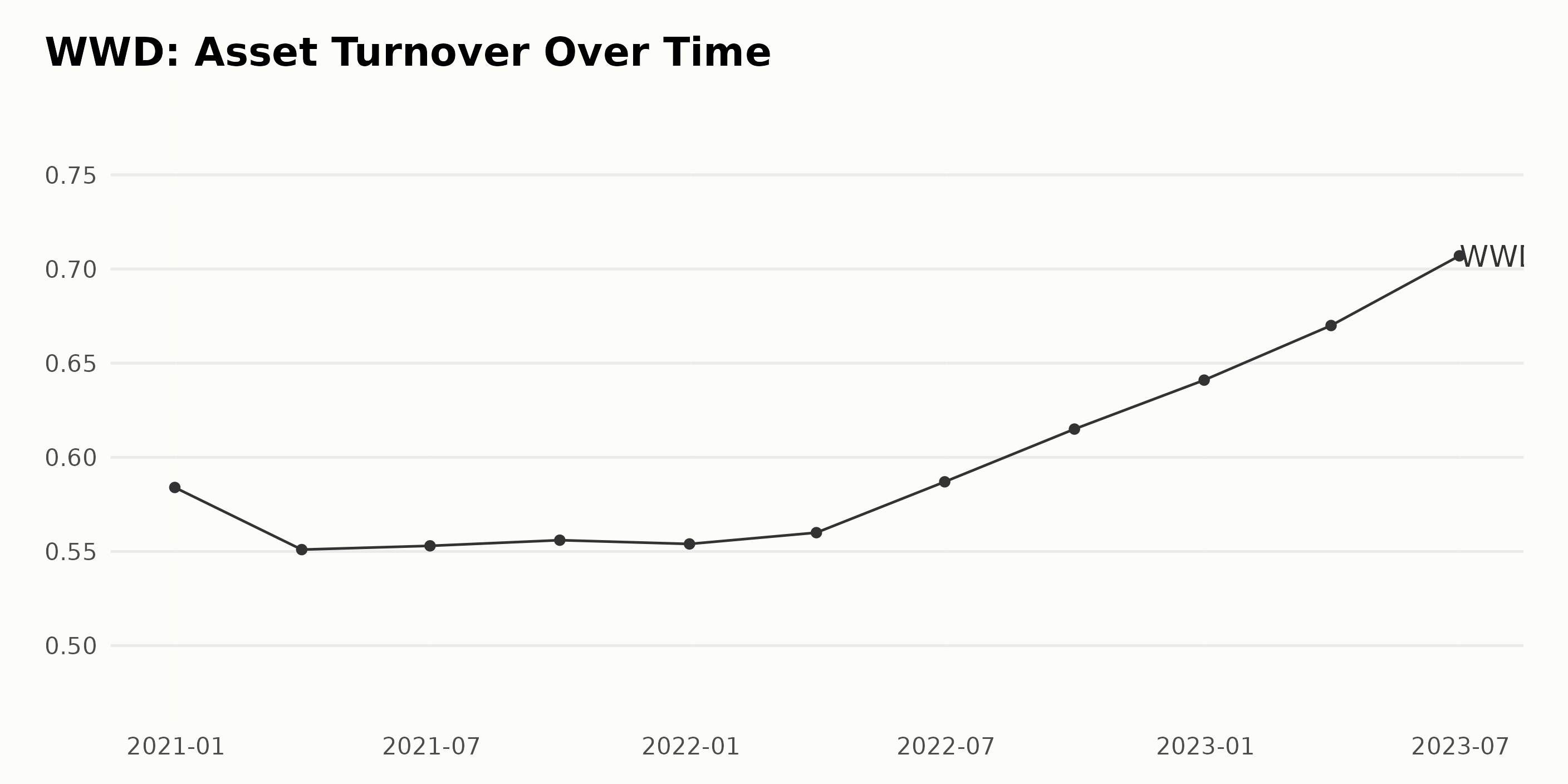 Six-Month Analysis Reveals Upward Trend in Woodward Inc.'s Share Prices
Upon analysis of the provided data on Woodward Inc. (WWD)'s share prices, a general upward trend is observed spanning from mid-May to mid-November 2023. The specific details are highlighted as follows:
On May 19, 2023, WWD's share price was at $109.85.
Despite minor fluctuations, by June 30, 2023, the price increased overall, to $116.91.
The price continued to grow in July, reaching $120.62 by July 21, 2023. – By August 11, 2023, the price reached a notable high of $127.48.
There were slight decreases and increases over the next few weeks, with the price hovering around the upper $120s.
A significant drop is observed to $124.33 on October 6, 2023. However, this deceleration was temporary.
After a short recovery to $128.91 on October 13, 2023, the price dipped to $121.45 on October 27, 2023.
The share price of WWD eventually bounced back remarkably to end at $135.2 on November 14, 2023.
Thus, despite short-term oscillations, the overall growth trend of WWD's shares from May to November 2023 is positive with some slight signs of acceleration towards the end of this period. The lowest recorded value was $107.77 (on May 26, 2023) and the highest recorded value was $135.2 on (November 14, 2023). This gives an increase of approximately 25.4% over half a year. Here is a chart of WWD's price over the past 180 days.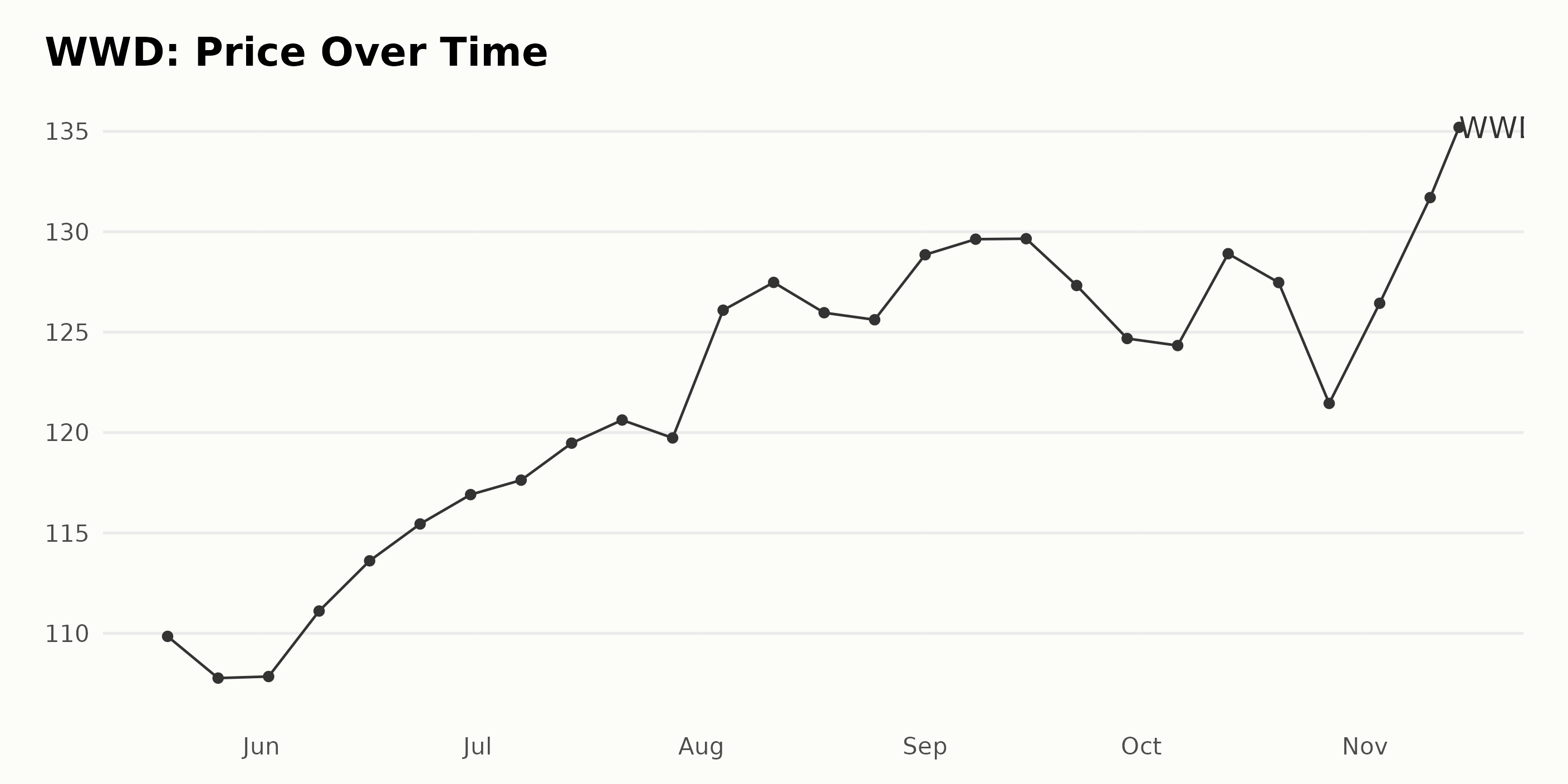 Woodward Inc.'s Strong Performance: Analyzing Sentiment, Momentum, and Quality Ratings
WWD has an overall B rating, translating to a Buy in our POWR Ratings system. It is ranked #11 out of the 71 stocks in the Air/Defense Services category.
Based on the POWR Ratings data, the three most noteworthy dimensions for Woodward Inc. (WWD) are Sentiment, Momentum, and Quality.
Sentiment: The Sentiment dimension had the highest rating towards the end of the examined period. Starting from a score of 63 in May 2023, there was a steady increase. We can notably observe a keen uptick from July 2023, with the metric jumping from 80 to an outstanding 93 by November 15, 2023.
Momentum: Momentum also showed a positive trend for Woodward Inc. Beginning at a rating of 61 in May 2023, the momentum rating consistently increased month over month, reaching a high of 81 in October 2023, which remained unchanged as of November 15, 2023.
Quality: Quality started with a decent score of 79 in May 2023. The quality dimension for Woodward Inc. showed slightly less fluctuation than the other two dimensions during this period. However, it saw slow but steady growth towards the latter part of the period, registering a score of 85 in November 2023, which is higher than its starting value.
This analysis of Woodward Inc. shows a company that has both strong sentiment and momentum, and maintains a high-quality status.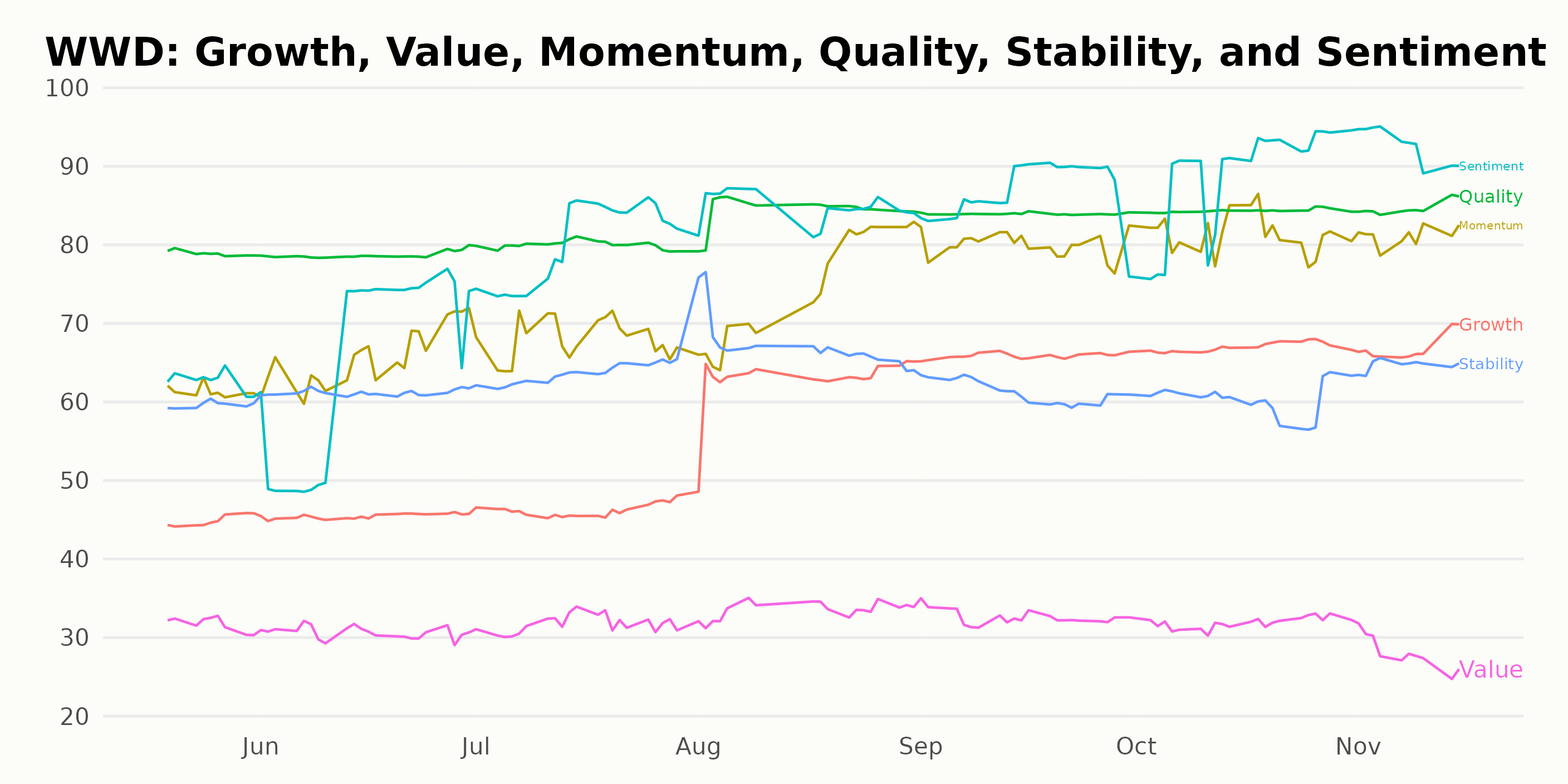 How does Woodward Inc. (WWD) Stack Up Against its Peers?
Other stocks in the Air/Defense Services sector that may be worth considering are Willis Lease Finance Corporation (WLFC), Textron Inc. (TXT), and CPI Aerostructures Inc. (CVU) — they have better POWR Ratings.
What To Do Next?
43 year investment veteran, Steve Reitmeister, has just released his 2024 market outlook along with trading plan and top 11 picks for the year ahead.
Want More Great Investing Ideas?
---
WWD shares were trading at $134.95 per share on Wednesday afternoon, down $0.04 (-0.03%). Year-to-date, WWD has gained 40.51%, versus a 18.90% rise in the benchmark S&P 500 index during the same period.
About the Author: Subhasree Kar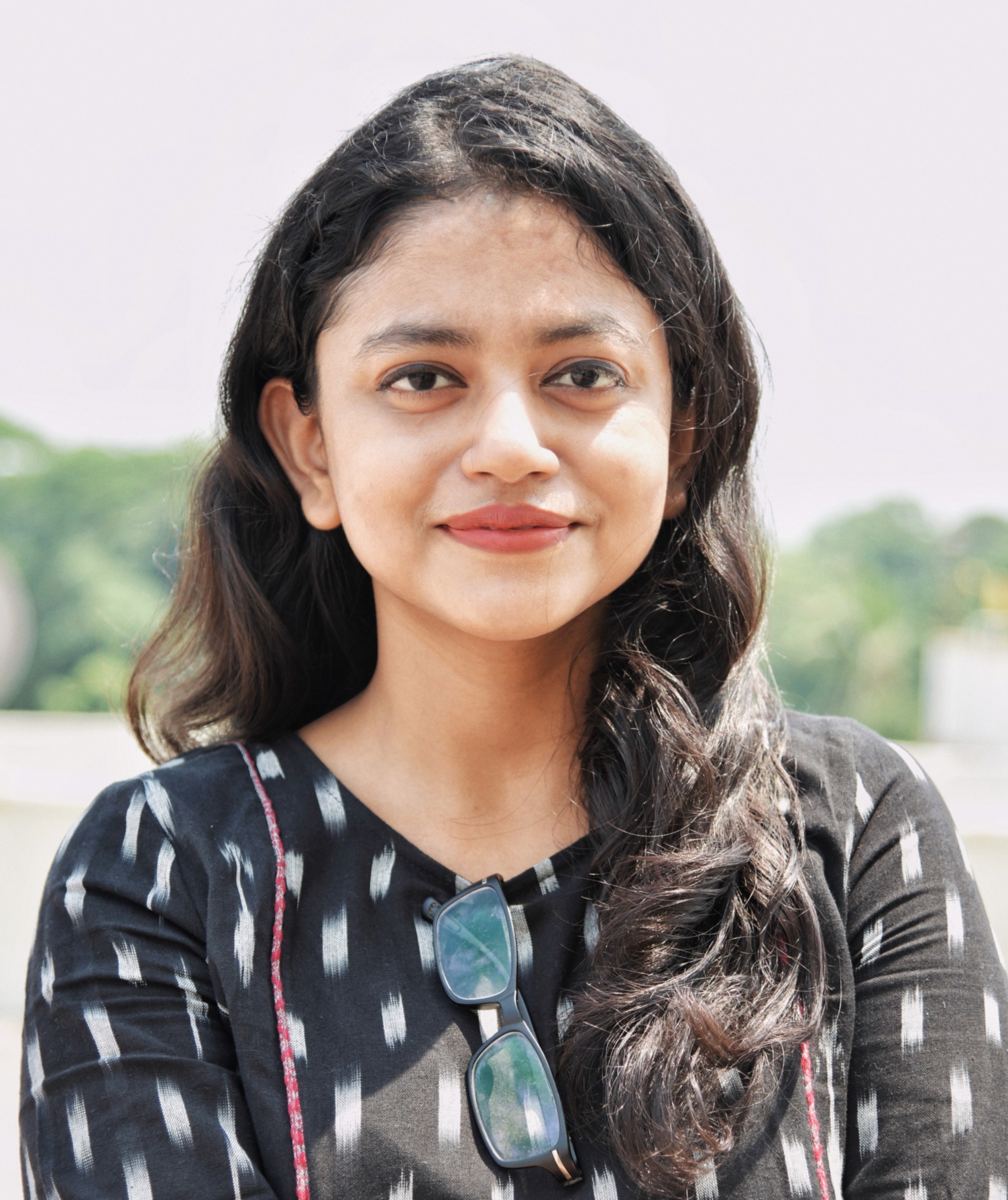 Subhasree's keen interest in financial instruments led her to pursue a career as an investment analyst. After earning a Master's degree in Economics, she gained knowledge of equity research and portfolio management at Finlatics. More...
More Resources for the Stocks in this Article