President Trump had a field day noting that the new trillionaire club of stocks, "Microsoft (MSFT)", "Amazon (AMZN)",  "Google (GOOGL)" and "Apple (AAPL)" spells out MAGA. 
Indeed, this new acronym has supplanted the old FANG gang, with Microsoft and Apple replacing "Facebook (FB)" and "Netflix (NFLX)" for good reason; the former, which can both be considered old guard tech from pre-dot.om days, have gained whopping 85% and 120% in just the past 52 weeks while the latter have only eked out 20% and 13% gains over the same period.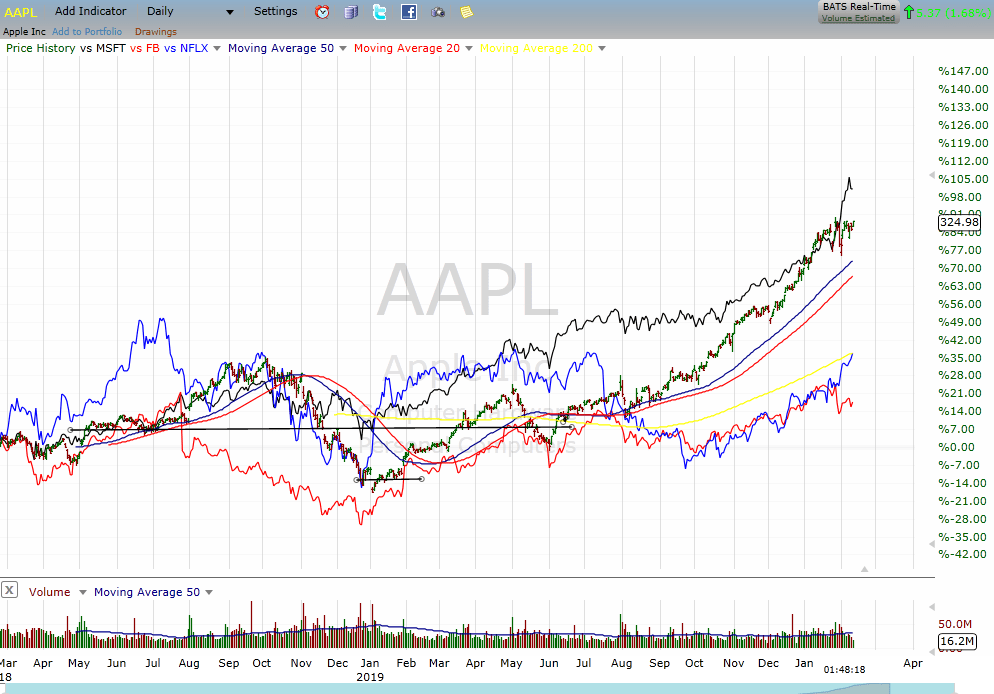 The impact has not been just psychological but has had very real, and some would say unhealthy, impact on investor behavior and stock market performance. 
Over the past 52-week MAGA has accounted for nearly 70% of the S&P 500 Index's 37% gain.  And an eye popping 76% for the Nasdaq 100. 
The market is getting increasingly top heavy with the top 2, 5 and 10 largest capitalization stocks now accounting for record representation of the overall market—the top 5 of the S&P 500 Index is now near 18%, a decade high.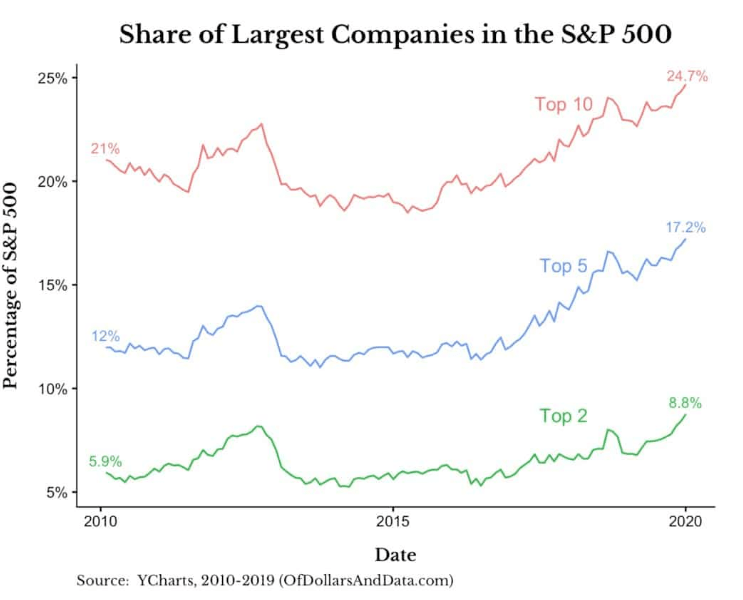 As you can see, over the last decade the FAAMG stocks have increased their share of the S&P 500 from 7% to 17%.  These tech giants, which used to be valued at $650 billion in 2010, are now worth nearly $5 trillion, or 7.6x more.  Over this same time period, the S&P 500 increased in value from $9 trillion to $29 trillion, or only 3.1x more.
And the trend seems to be accelerating as confluence of a 'winner take all' economy, especially in tech where scale matters most, meets an investing environment dominated by passive index based ETFs.  
Unlike a portfolio of individual stocks and bonds, in which if one portion grows to large it needs to be shaved and rebalanced, the growth of MAGA creates a self-fulling feedback loop in which more money needs to be allocated to these behemoths.
Could this continue for the next 1, 2 or 3 years or more? Sure.  But ultimately it is not healthy for the market or one that is likely to lead to a truly sustainable bull market. 
Just as there is much hand wringing of the growing economic inequality in society with wealth increasingly amassed into a shrinking group, I too am worried that such a top heavy stock market will ultimately topple.  
It would be nice, nay great, if we could see a broader and wider participation in this record bull run. 
---
MSFT shares were trading at $183.90 per share on Wednesday afternoon, down $0.54 (-0.29%). Year-to-date, MSFT has gained 16.61%, versus a 4.71% rise in the benchmark S&P 500 index during the same period.
About the Author: Option Sensei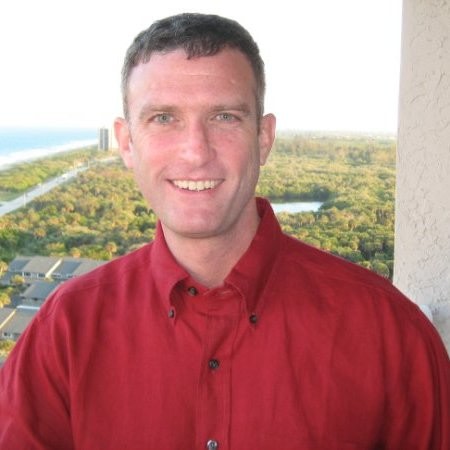 Steve has more than 30 years of investment experience with an expertise in options trading. He's written for TheStreet.com, Minyanville and currently for Option Sensei. Learn more about Steve's background, along with links to his most recent articles. More...
More Resources for the Stocks in this Article